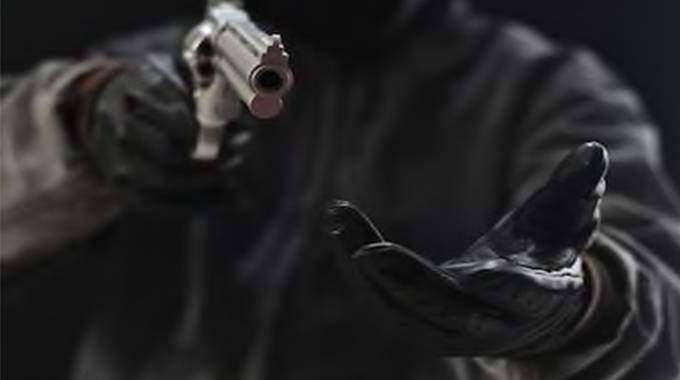 The ManicaPost
Tanyaradzwa Mujati
Post Reporter
FOUR Harare-based armed robbers who early this year got away with a Mutasa businessman's money and property valued at US$6 500 and $759 760 were arrested after the stolen vehicle was involved in an accident the next day.
The robbers managed to sneak out of Manicaland using the Bhinya Road which links Nyanga and Mutoko, before travelling to Harare.
The gang was arrested after one of them, Wayne Madzinga (31) who was driving the Nissan Caravan stolen in Mutasa, was involved in an accident.
Police detectives had to use Madzinga to lure his three other accomplices.
Madzinga, Lazarus Phiri (33), Simba Herbert Nyachega (32) and Denham Tadyirakumunda (44) recently appeared before Mutare magistrate, Ms Tilda Mazhande.
They were charged with robbery as defined in Section 126 of the Criminal (Law and Codification) Act, Chapter 9:23.
The quartet was remanded in custody to September 26 for trial.
Ms Perseverance Masukuto prosecuted.
It is alleged that the four robbed Mr Nganda Jekisani at gunpoint at his Newengo home in Mutasa on June 6.
They made good their escape with Mr Jekisani's Nissan Caravan valued at US$6 500, cellphones, US$1 730, 3 500 meticals, R5 500, a gas tank, car jumpers, blankets, church garments and clothes.
Ms Masukuto said the value of the Nissan Caravan depreciated to US$4 500 after it was involved in an accident.
Goods worth only US$4 500 and $759 760 were recovered after the arrest of the suspects.
It is alleged that Nyachega was the mastermind behind the robbery as he was Mr Jekisani's neighbour before his relocation to Harare.
Ms Masukuto said Nyachega, Madzinga, Phiri and Tadyirakumunda hatched a plan to rob Mr Jekisani on the night of June 6.
She said one of the accused persons entered the complainant's house through an unlocked door and confronted a domestic worker, Ms Tsitsi Mafuu, who was in the kitchen.
"He ordered Ms Mafuu to lie down. This prompted Mr Jekisani to rush to the kitchen to check on what was happening. When one of the accused persons saw Mr Jekisani, he pointed a pistol at him and ordered him to lie on the ground.
"Mr Jekisani refused to obey the order and the suspect called his colleagues from outside. One of the suspects who was also brandishing a pistol ordered Mr Jekisani to lie down and this time he complied," said Ms Masukuto.
She said one of the accused persons grabbed the cellphone and the car keys that Mr Jekisani was holding.
"They kicked the complainant several times on his ribs, demanding money.
"One of the accused persons searched the complainant and took US$500 from his pocket.
"They force-marched Mr Jekisani to the dining room where his wife and their two-year-old child were.
"The robbers searched the dining room and stole Mrs Jekisani's cellphone, US$1 230, 3 500 meticals and $6 700.
"They continued demanding more money and two of the accused persons dragged Mrs Jekisani to the bedroom where they stole 5 500 rands and 400 pula," said Ms Masukuto.
She said one of the suspects grabbed the couple's toddler and threatened to kill her in a bid to force her parents to produce more money.
"Mrs Jekisani screamed, pleading with the accused persons not to kill her child since there was no money left in the house," said Ms Masukuto.
After the robbery, the suspects allegedly removed the Nissan Caravan's registration number plates and sped off the crime scene.
"On June 7, detectives from CID Homicide received information that an unmarked Nissan Caravan had overturned in Southlea and that the driver had been spotted with a gun.
"Police attended the scene and arrested Madzinga," said Ms Masukuto.