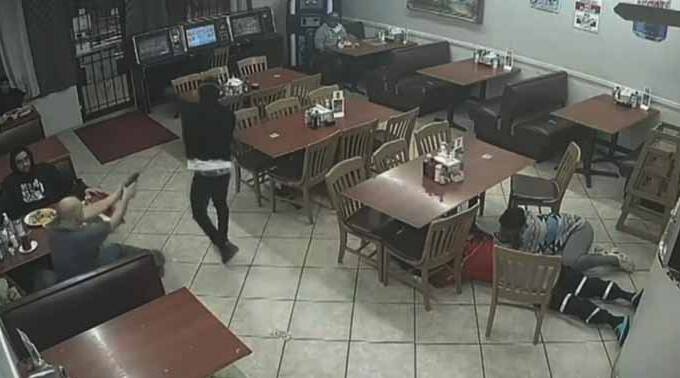 The ManicaPost
AN armed robber at a Houston, Texas in the US restaurant was fatally shot by a customer when he demanded the other patrons to hand over their money, authorities said.
The shooting unfolded inside Ranchito Taqueria around 11:30 pm last Thursday when a masked suspect walked in the front door, pointed a gun at customers and demanded their money and wallets, Houston Police Department said.
Disturbing footage of the incident shows terrified customers hiding under tables as the robber, dressed in all black, marched around and grabbed their belongings, which some had flung on the floor.
As the robber heads to the door to leave, a patron sitting in a booth suddenly stands up and opens fire on the suspect with a handgun, the video shows.
The customer can then be seen shooting him in the back four times before the robber collapses to the ground.
Then, while standing right over the robber, the customer shoots him once more at point-blank range, the footage shows.
The customer collected the stolen money from the suspect and returned it to other patrons before he and other customers fled the restaurant, according to police.
The robbery suspect, identified only as a man believed to be in his 20s, was declared dead at the scene by paramedics, police said.
Now, investigators said they "want to speak with the man for his role in the shooting" and asked the public for help identifying the shooter. No charges have been filed against him.
"One of the reasons that law enforcement is seeking out this individual is to find out whether he was in fear for his life or the lives of the people around him because that's absolutely essential to a self-defense claim under the law," said KHOU legal analyst Carmen Roe.
Roe said it appears to be self defense, and even if the suspect's gun was fake the customers in the restaurant "clearly believed it was a real gun."
"If you're justified in shooting the first bullet, you're justified in continuing to shoot until the deadly threat is no longer there," she said.
Roe said that she would have advised the man to remain at the scene and answer questions from police there, "but at the same time, you have no obligation to stay on the scene of a situation like that."
Surveillance footage obtained by police shows the shooter get into his vehicle, described as a 1970s and 1980s model pickup truck with no bed, before driving off. – New York Post.