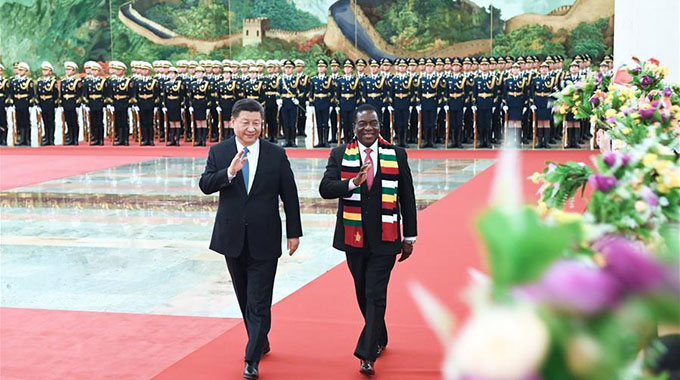 The ManicaPost
Chinese President Xi Jinping and his Zimbabwean counterpart President Mnangagwa on Tuesday agreed to establish a comprehensive strategic partnership of co-operation between the two countries.
The two heads of state reached the consensus during talks at the Great Hall of the People in Beijing. President Mnangagwa is on a state visit to China from Monday to today (Friday) at the invitation of Xi, and this is the President's first State visit outside Africa as Zimbabwean President since taking office last November.
President Mnangagwa delivered a speech in Beijing on Tuesday, saying that after the peaceful transition of the government, his country would bid farewell to isolation.
Zimbabwe is opening its door to other countries' companies and investments, and the country is looking forward to strengthening economic and trade ties with China, he said.
President Mnangagwa's speech was made at a Sino-Zimbabwean business forum held at the Diaoyutai State Guesthouse, which was attended by senior officials of Zimbabwe and more than 100 business figures from China and Zimbabwe.
"President Mnangagwa has a deep relationship with China. Apart from inviting China's investment, he is also interested in learning about China's experience of governance, reform and opening-up," he said.
The West remains distant from President Mnangagwa's administration, Shen noted, and China is still the most important partner Zimbabwe can trust.President Mnangagwa said that Zimbabwe is seeking deeper economic ties with China to help its economy leapfrog forward after years of Western sanctions. – Xinhua/Global Times.