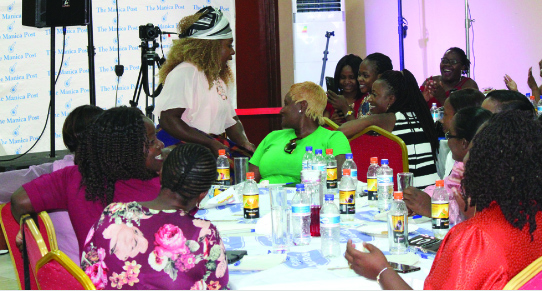 The ManicaPost
Tendai Gukutikwa
Post Reporter
Latest reports show that at least 956 sexual related offence cases have been reported to the police in Manicaland between January to October this year, an official has said.
According to Zimbabwe Republic Police's Manicaland Province Assistant Commissioner Susan Chemurema, women constitute the bulk of the victims of these sexual offenses.
Speaking at the inaugural edition of the Ladies Summer School that was hosted by The Manica Post on Friday, Assistant Commissioner Chemurema said of the 956 cases, 428 were rape cases, with over 70 percent of them being rape cases committed against minors.
"We have recorded 312 rape cases against minors and 116 cases against adults. We believe that there are more rape cases that are going unreported, especially if they are committed against children.
"This number is really frightening for our children. Imagine the trauma that they have to go through after being raped by a relative or neighbour. I say this because most of these rape offenses against children are committed by people close to us who might be our relatives or neighbours," she said.
The province also recorded 328 cases of statutory rape, 22 attempted rape cases, 37 cases of aggravated indecent assault, 141 indecent assault cases and one case of human trafficking.
Meanwhile, Assistant Commissioner said the province is in the red zone as it is also recording alarming rates of domestic violence cases.
"The province has recorded a total of 1012 domestic violence cases and I believe as a province we can do better. These are alarming rates that prove that more still needs to be done when it comes to combating GBV. Manicaland dwellers need to keep being reminded to fight and combat GBV," she said.
She urged women to take advantage of the ZRP's Victim Friendly Unit facilities that are dotted across the nation at all police stations.
"Report all forms of abuse to the police so that the perpetrators receive their dues in time. Encourage children to walk in groups and report to you if someone touches them inappropriately. As women and children, you should also avoid using dark allies at night because that is where most sexual assault offenses are being committed," she said.
The oversubscribed Ladies Summer School ran under the theme ''Fix Your Crown'' and it brought women from all walks of life together to discuss GBV issues and how to protect themselves; as well as unpacking the Marriage Act.
Participants all received invaluable information on etiquette, ideas on business opportunities and financial literacy.
Other speakers at the event included Guest Speaker Mrs Edith Mukuwapasi (co-director, Knowstics Academy), prominent lawyer Advocate Tabitha Mwayera-Chikeya and former Miss Zimbabwe, Caroline Marufu-Buwu, who is also the license holder for Miss Tourism Manicaland.
Dorcas Moyo serenaded participants through her uplifting music.
In her speech, one of the organisers of the event, who is also Editor of The Manica Post, Mrs Wendy Nyakurerwa-Matinde said The Manica Post is committed to actively fight GBV and to that end, the publication stands for all women regardless of race, age or circumstance; so that they achieve their full potential.
She urged women to help create a safe space for the girl child and challenged them to keep preaching the gospel against GBV.
"Once we have an empowered woman who is financially independent and knowledgeable about our country's laws, we will be able to deal with GBV ruthlessly and effectively. Our task is to make that possible. The success of women is a goal that I know we all share. Together, let us turn it into reality," she said.
The event was a precursor for the commemorations of the 16 Days of Activism against GBV which will run from today (Friday) to December 10. The global theme for this year's 16 Days of Activism against GBV is "UNITE! Activism to end violence against women and girls".