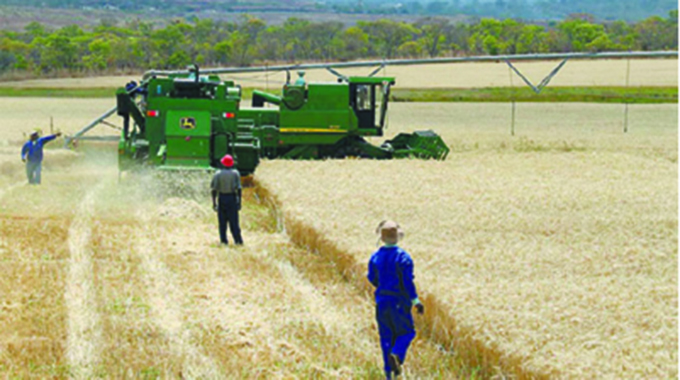 The ManicaPost
Samuel Kadungure Senior Reporter
WHEAT farmers in Manicaland have missed the target of planting 7000 hectares due to a plethora of challenges, chief among them being the shortage of fuel for tillage and planting.
Agritex provincial agronomist Mr Cephas Mlambo said the province planted 6 515ha.
A total of 5 054ha are under command agriculture.
Manicaland had been given the 7 000ha target, with an expected output of 36 400 metric tonnes, but missed the target by 485ha.
However, the planted hectarage marks a significant increase from the 2 595.8ha planted last season, of which 1 510ha were under command agriculture while 1 082.8ha was under self-financing.
Government is supporting production of 80 000ha of wheat in a strategic move to meet food requirements, cut imports, fill strategic grain reserves and export the surplus.
"We have planted 6515ha of winter wheat — that is 5 054ha under command agriculture and 1 461ha under self-financing against our target of 7 000ha. Generally, the crop is at booting stage (about to flower) and we are advising farmers to apply adequate top-dressing fertiliser – that is 350 to 500kg of urea per hectare to achieve high yield and good grain quality.
"Also, farmers should continue scouting their fields for pests such as aphids," said Mr Mlambo.
Wheat farmers who spoke to The Manica Post said key service providers such as Zesa and Zinwa are augmenting Government efforts by ensuring uninterrupted supply of electricity and water.
Wheat is highly sensitive to moisture deficits, especially during the critical phases of heading, flowering and early grain-fill. This means the crop has to be grown under uninterrupted irrigation, thereby making the continuous availability of water and electricity crucial.
Mr Denford Mutwiwa of Mutwiwa Farm said scheduling irrigation timings is easy due to availability of electricity and water.
"Irrigation decisions are not only based on crop growth phases and crop water use, but also on availability of electricity and water. We are happy that both water and electricity are available, unlike during the previous seasons.
"I have planted 110ha under the command agriculture programme and my crop is at the booting stage. We got all the inputs on time and my appeal is for authorities to ensure that combine harvesters will be available on time to avoid making the crop overstay in the field as that compromises the quantity and quality of the yield," said Mr Mutwiwa.
Another farmer, Mr Fungai Makoni of Chitora Farm, cited diesel shortages as the major challenge.
"My crop is at the grain filling stage, and my only problem is the unavailability of diesel.  Most of our operations, including land preparation, crop spraying, operation of centre pivots and harvesting, rely on diesel. We can only hope that the situation would have improved by the time we harvest," said Mr Makoni.
Zimbabwe needs at least 400 000 metric tonnes of wheat every year, the bulk of which is being imported to augment local supplies.