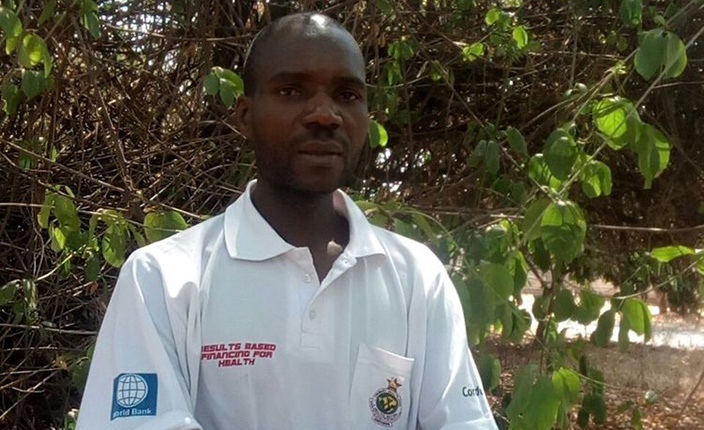 The ManicaPost
Catherine Murombedzi
"TIME is of essence in my job and I am conscious of it," this was said by a man who strives to see tuberculosis infection rate going down.
Jaison Tarovedzera is a dedicated member of the Riders for Health team under The Union Zimbabwe.
Jaison said he rides to save lives and would ride until he is satisfied that the rate of new TB infection is minimal.
I told Jaison that the initiative is to 'End TB by 2030', to which he replied: "Ending TB would be ideal, however, for now I am focusing on lowering the rates of TB infection in the communities. No-one must die of TB and that is why I ride with dedication," said Jaison in Harare last week.
Jaison's bike had gone for service and he was using a truck on the day in question.
"My bike has broken down and is undergoing service. The City of Harare which is a partner in the End TB programme with the Ministry of Health and The Union provides a car in such cases. So for today I am driving, but I prefer riding as it is faster, no parking hustles and I negotiate my way at my speed and pace," said Jaison.
Jaison collects sputum samples from council clinics to the laboratory at Beatrice Infectious Diseases Hospital in Harare.
"I collect sputum samples from clinics and take these to the laboratory at Beatrice Hospital. Time is of essence because I do not only ferry sputum samples, but also stools, blood samples and other related matter which get spoiled if not taken on time. So every minute counts and I get all the day's specimens to the laboratory on time," said the soft spoken Jaison.
Jaison said he not only rides, but also shares his knowledge on TB with the community he lives with.
"At family unions, when I notice that a person's cough is just not the usual cough, I speak to them in private and inform them that there is nothing to fear if it is TB. It can be treated and that is done for free at clinics," he said.
Jaison said he had noticed a certain degree of fear in people when TB is mentioned.
"There is a degree of fear when TB is mentioned as one usually thinks of the long treatment time and cost. I tell them that the only cost is the initial $5 at first visit at the clinic for consultation, but after that they are assured of tests and treatment all at no cost to them. I also tell them that they will not travel long distances because their nearest clinic will treat them in confidence," said Jaison.
People are surprised with the above information because they have some misinformation on where TB is handled and hence the fear to seek treatment.
"Many people I talk to ask me if I will not know their results since I will carry the samples, to which I tell them that all is done in confidence and I do not even get to view any sample. They are handled professionally and only the nurse at the clinic will reveal the outcome of any tests to them, so after assuring them of that, I usually see someone warming up and further asking what if they are found to be HIV positive again," Jaison added.
TB is an opportunistic infection that takes advantage of weak immune system and so the chances of TB-HIV infection are high. In Zimbabwe, 75 percent of people on TB treatment also have a compromised immune system.
"Locally 75 percent of people on TB treatment in our clinics are HIV positive. However, I must stress not all people with TB are HIV positive," said Dr Prosper Chonzi, the City Health Director.
"TB-HIV co-infection is handled and managed at all our clinics so people must be screened for both without fear," said Dr Chonzi.
Jaison said he had lost count of the number of people who had come back to thank him.
"Unless it is the person who recognises me, I do not usually recall some of the faces of the people I would have assisted, but I have had people stopping me on the road to say thank you, you saved my life. That is my job to save lives from immature TB deaths so am happy to ride for health," said Jaison.
Jaison has been riding for years and was also part of the TB Reach programme which ended recently.
"Before Riding for Health I was a rider on the TB Reach programme. There I remember we collected samples from outreach teams under a tree and reached so many hard to reach communities," said Jaison.
The rider said he does not strain at all as he rides 80km to 90km a day and is pleased to be saving lives.
Meanwhile, MSF Belgium working in Epworth at Domboramwari Clinic now sends out text reminders to patients when their medication is due for collection. MSF has completed a pilot project to send reminders by text message to TB patients in Epworth at Domboramwari Clinic.
"Due to the above planning, missed appointments have dropped from 15 percent to less than five percent," said a nursing staff who requested anonymity since she is not allowed to speak to the Press.
Another partner in the health sector, Elizabeth Glaser Pediatric AIDS Foundation (EGPAF) now pays courier services for all dry blood samples (DBS) for babies to be sent to laboratories on time. EGPAF now pays courier services for DBS so the turn-around time has drastically been reduced from three months to a week in most cases," said Dr Agnes Mahomva, the country director for EGPAF.
Courier services, text messaging and dedicated riders like Jaison will see the achievement of SDG 3.3 by 2030.
Jaison is just one of the many unsung heroes in the fight to End TB.
Fedback: cathymurombedzigmail.com