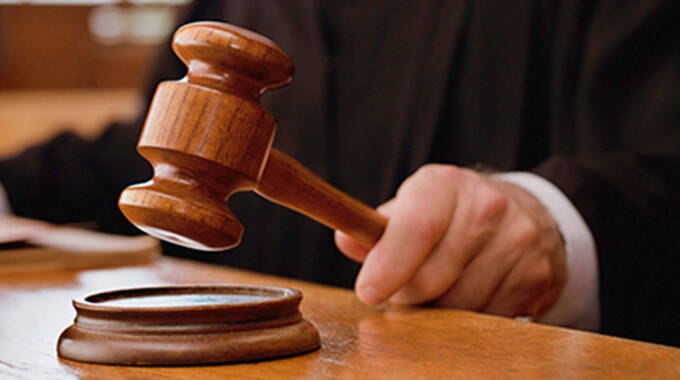 The ManicaPost
Tanyaradzwa Mujati
Weekender Reporter
A MUTARE woman is cursing the day she gave birth to her son after he recently pummeled her, leaving her semi-naked.
The 36-year-old man is alleged to have attacked his hapless mother with a wooden hole handle.
Gogo Junior Matiza produced the torn blouse she was wearing when she was attacked by Elias Matiza as she was applying for a protection order against him.
Mutare magistrate, Mr Xavier Chipato presided over the matter and granted the protection order in Gogo Matiza's favour.
The order bars Elias from visiting Gogo Matiza's house for the purposes of disturbing her peace.
Testifying in court, Gogo Matiza said she regrets having Elias as a son.
She said Elias broke her door while she was at church and stole some of her property.
Gogo Matiza said at one time, Elias went to her house while semi-naked and drunk.
He assaulted his cousin and when she tried to stop him, he vented his anger on her.
She said her body still aches as a result of the assault.
"I have four grown-up sons, but they do not behave like Elias. I do not know why God laughed at me and cursed me with this son. He does not respect the fact that I am a widow who single handedly raised him. His father passed away long back and left me to raise the children alone. He does not appreciate what I went through to put food on the table for them after the Matiza family had turned a blind eye on us.
"After being assaulted by Elias, his elder brother took me to hospital and advised me to apply for a protection order against him," she said.
Gogo Matiza said Elias is also in the habit of assaulting his wife and she also ends up being caught in the crossfire whenever she tries to stop him.
"He is in the habit of assaulting his wife. We stay at the same compound and I cannot just sit and pretend that I do not hear her screams for help as she is beaten mercilessly. What if she dies, what will I tell her people?
"I always try to stop the fights, but he yells at me saying I am fast-tracking my death by provoking him. I no longer have peace in my own house. From today, he is no longer my son," charged the distraught woman.
In response, Elias denied all the allegations.
He said the torn blouse she produced in court was one of her old clothes that were being used to mop the floor.
Elias said: "Practically looking at her and how I look, if I am to assault her, will she survive to tell her story? She is trying to protect my cousin who owes me money. He offered me a job in Penhalonga, saying I could get over US$700 per week.
"The cousin was the one who started the fight and I sustained facial injuries. I threatened to report the matter to the police, and she stopped me. She threatened to disown me if I make a police report," he said.
He also claimed that his mother was lying against him as he had refused to demand compensation from the family of her cousin's husband.
The cousin succumbed to HIV.
"My aunt passed due to HIV complications, of which she had contracted the virus from her late husband. Recently, my mother asked me to be part of the crew that was supposed to go and demand three beasts as compensation from my uncle's family.
"She promised to give me one of the beasts, but I refused because this was a distant relative. I cannot survive on looting innocent people's resources," said Elias.
He added: "Our father passed away in 2002 and as a family we did a memorial and tombstone unveiling ceremony. My mom and sister bought tiles for the grave and wanted me to be part of the ceremony without consulting other relatives. I refused and that is also why mother is out to fix me by soiling my good social standing.
"The only thing I should be remorseful about is that I had to exchange words with my mother and for that, I am sorry mom," he said.
Elias begged the court not to bar him from visiting his mother's house, saying that she needs extra care as she is diabetic and has backpain problems.
"My children are the ones who clean and cook for her.
''They also help her to take her medication. I will not go there, but the court should at least allow my children and my wife to look after her as usual," said Elias.