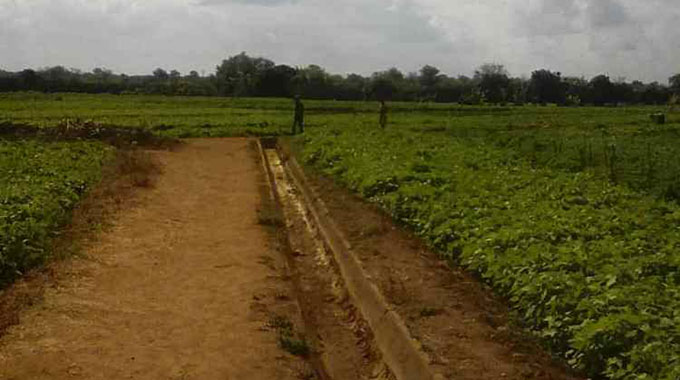 The ManicaPost
Freedom Mutanda
Correspondent
WIMBANAI Irrigation Scheme in Chipinge South recently received a shot in the arm following the installation of irrigation pipes worth $500 000.
The scheme is on a 23-hectare piece of land and relies on water from Save River. The 165 farmers who own 0,3ha each have over the years been facing challenges in accessing water from Save River, especially during the dry season when water levels are low.
The farmers grow maize, sugar beans and various vegetables throughout the year.
The chairperson of the irrigation scheme, Mr Benson Jekero, said they are now geared to increase yields.
"We need water everyday, especially during the dry season when water levels are low. Greenfuel availed an excavator for us and we now have a reservoir along Save River from which the water is pumped to our fields using a 40-horse power electric pump," he said, adding that the area's legislator, Cde Enock Porusingazi, facilitated the development.
One of the beneficiaries, Mrs Elizabeth Mandhlazi said the pipes will enable them to work on their fields throughout the year.
"We are in the process of digging trenches where the pipes will be laid. With adequate water supplies, we are assured of good harvests. This will improve the households' food security. We have very good soils, but we have not been putting them to maximum use due to water shortages.
"We can produce enough to feed our families and sell the surplus. We are a hardworking community that cannot continue relying on food hand-outs," said Mrs Mandhlazi.
The village head, Mr Vengai Mashava Makiwa, said the development will change people's lives.
Cde Porusingazi said the initiative draws inspiration from President Mnangagwa's Vision 2030, which seeks to ensure that the country will have an upper middle income economy in the next decade.
"I was approached by the irrigation scheme's chairperson and his committee to assist in sourcing irrigation pipes and I obliged.
"I know that this community is made up of hardworking people and therefore l decided to play my part in improving their lives.
"The ball is now in the beneficiaries' court. They need to prove their mettle. If we pool resources together, we can move mountains and improve our lives," he said. 
The area's Agritex officer, Mr Hardson Mutsvangwa, urged farmers to test the soil's alkalinity and acidity to improve their yields.
"Have your soil tested in order to know the correct fertilisers and chemicals required. Farming is scientific,'' he said.