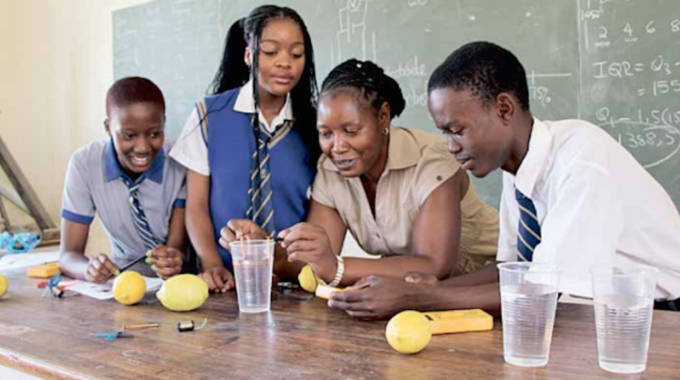 The ManicaPost
Abel Zhakata
Senior Reporter
A SERIOUS shortage of Science teachers has hit several schools in Manicaland, amid reports that the few available ones have joined private practice, thereby leaving public schools in jeopardy.
So dire is the situation that some of the affected schools have gone for more than a year without teachers for Biology, Chemistry and Physics.
Even academic powerhouses like St Faith's in Rusape and St Augustine's in Penhalonga are having nightmares to secure teachers after their seasoned tutors were snatched by private colleges.
Acting Manicaland Education director, Mr Richard Gabaza could not comment on the issue and referred all inquiries to the Ministry of Primary and Secondary Education spokesperson, Mr Taungana Ndoro.
Mr Ndoro confirmed the development.
"I can confirm that we are facing a shortage of Science and Mathematics teachers. We have requested the Public Service Commission to allow the ministry to recruit graduates with degrees in Mathematics, Chemistry, Physics and Biology who will attain pedagogy while at work.
"Pedagogy is the art and science of teaching and translating theory into practice for learners to grasp concepts easily," he said.
Anglican Diocese for Manicaland's acting education secretary, Reverend Alex Chikomba said the shortage of Science teachers is affecting operations at several schools run by the church.
"We have a serious shortage and we really don't know what to do. The best teachers we had left for greener pastures. Some went to Malawi, while others joined private schools. We have actually gone on the market to recruit teachers for Physics and Chemistry, but there are no takers. There is a fierce competition out there for these teachers and you have to offer lucrative packages to secure one," said Rev Chikomba.
Roman Catholic Mutare Diocese education secretary, Mr Lawrence Chibvuri said the prevailing situation is unsustainable.
"The demand for Science subjects has been growing over the years, but the same has not been happening in training the requisite manpower. There is a serious mismatch and this explains the prevailing shortages.
"The Ministry of Higher and Tertiary Education, Science and Technology must promote the training of Science teachers at colleges in order to close this gap. They should pour more funds towards the training of these teachers.
"The development path the country is taking requires Science which is vital for innovation and value addition. More learners are now doing Science subjects in order to remain relevant in this ever changing economic climate. So teacher training in these fields need to be promoted.
"The Catholic Church runs several schools and we are facing the same problem. Right now we have several schools that are looking for Science teachers, but we can't find any. Private schools are poaching the few available ones and our schools cannot match the remuneration packages they are being offered there," he said.
A principal at a private school who requested anonymity revealed that the current teacher shortages will affect the overall performance of most schools.
"We had the best performing public schools in Manicaland that were topping the charts each year because they had the best teachers. Their teachers were experienced and most of them were examiners and markers.
"These are the teachers that were snatched by private colleges, while some have left the country. This will affect the performance of many schools with regards to Science subjects.
"Can you imagine a school going for more than a year without a teacher for a respective subject? What will happen to learners in examination classes?
''This is a serious problem which needs to be solved quickly," he said.