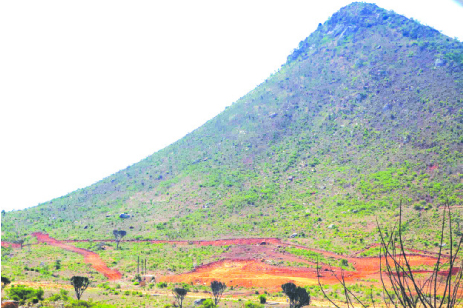 The ManicaPost
Cletus Mushanawani
News Editor
GOVERNMENT will not allow mining projects that have the potential to adversely affect people's lives, their health and day-to-day activities, a Government Minister has said.
The announcement by Environment, Climate, Tourism and Hospitality Industry Deputy Minister, Honourable Barbara Rwodzi comes as the Dangamvura quarry saga rages on, with the investors indefinitely suspending operations as residents remain adamant that the project should be stopped.
The intriguing saga, which has so many twists and turns, has sharply divided the once vocal civic community, amid bribery allegations, as some now stand accused of lining their pockets to somersault in support of the project.
The most vocal residents' representative organisations are arguing that if given the nod to continue, the project which will sit on 6,5 hectares of land near the Dangamvura water pipeline and tanks will cause irreparable damage to the environment and the surrounding residential areas.
From the lease agreement signed between Chinese company Freestone Mines and Mutare City Council, the local authority is expected to pocket about US$7 000 every year from leasing the land, an amount described by residents as paltry considering the project's potential risks.
In a telephone interview on Wednesday after the issue came up during deliberations on the Environmental Management Act (EMA) Amendment Draft Bill (Chapter 20:27) consultations at a Mutare hotel on Tuesday, Deputy Minister Rwodzi said the Dangamvura mining project is unsettling
"The issues regarding the Dangamvura mine project that were raised during the consultations are unacceptable. We further discussed it with the Mines and Mining Development Permanent Secretary, Mr Onisimo Moyo and Secretary for Manicaland Provincial Affairs and Devolution, Mr Edgars Seenza.
"Our ministry is yet to be furnished with detailed information on the project but as a ministry, we do not support such projects.
"We shall look deeper into the issue to get to the bottom of everything. We will not allow mining on Dangamvura Mountain due to its proximity to residential areas and a tertiary institution (Mutare Teachers College).
"This project will cause both noise and air pollution. A lot of infrastructure like the water pipeline, water tanks and nearby residential areas will be affected by these mining activities," she said.
Deputy Minister Rwodzi added: "Manicaland is one of the provinces mostly affected by the vagaries of weather like cyclones and we cannot allow activities that weaken mountains to go on.
"Look at what happened in Chimanimani when lives and infrastructure were lost due to Cyclone Idai. If we weaken mountains, what will happen when cyclones strike? This will cause more infrastructural damage and loss of lives as the wind and storm breakers would have been weakened," she said.
As the mining saga continues, Freestone Mine executives are now feeling the heat.
They feel that they were taken down the garden path by the local authority which invited tenders before looking at the feasibility of the mining project.
On August 18, 2020, Mutare City Council flighted an advert in the Press inviting bids for the lease of two quarry sites in the city.
Investigations conducted by The Manica Post revealed that Freestone Mine, among other companies, responded to the advert and paid a tender fee of $500 on August 24, 2020.
On October 21, 2020, Mutare's late Town Clerk, Mr Joshua Maligwa, informed Freestone Mine that their bid for the mine had been successful.
An initial lease agreement was signed between the two parties, but was later revisited after the discovery of some errors on the earlier document.
The Chinese mining company also applied for an Environmental Impact Assessment (EIA) in September 2021, having obtained a supporting document from the local authority that was signed by the now suspended Acting Town Clerk, Dr Anthony Mutara, on September 2, 2021.
The Environmental Management Authority granted the EIA certificate during that month, a move that is now being probed to see if all due processes were followed before the issuance of the certificate.
On Wednesday, Mr Seenza said they are still waiting for a report on how the EIA certificate for the mining project was obtained.
"My office is yet to be furnished with the report on how the EIA certificate was obtained. I was discussing the issue with the Environment, Climate, Tourism and Hospitality Industry Deputy Minister (Hon Rwodzi) and the Mines and Development Permanent Secretary (Mr Moyo) yesterday (Tuesday).
"We are waiting for Mutare City Council and Mutare District Development Co-ordinator, Mr Wilson Bore, to furnish us with more details on the project," said Mr Seenza.
In an interview on Tuesday, Freestone Mine managing director, Mr Qi Ruoxin said the Dangamvura mining venture is now proving to be emotionally and financially draining.
"The best thing is to suspend the whole project because what is happening is disturbing and we can no longer endure it. We are not here to fight laid down policies. As business people we do not want to pour resources where there is no return on investment.
"We are now shouldering the blame for what is happening on the Dangamvura Mountain, yet we simply responded to a bid that was flighted by Mutare City Council, the custodians of the land. We are mere tenants and Mutare City Council has the answers to some of the issues being raised on the water pipeline and the tanks. They sited the whole project.
"We have lost one and half years due to these back and forths. We have invested a substantial amount into this project. We had power installed at the project site and a borehole was also sunk. Our transformer was vandalised and we had to remove some of the equipment we had installed there," said Mr Qi.
On the issue of greasing the palms of some stakeholders to get the necessary support to quick-start the project, Mr Qi defended his company.
"It is being alleged that we bribed some people at Mutare City Council and some civic society organisation to facilitate this project. Nothing of the sort happened. Zimbabwe has friendly and attractive investment policies and this eliminates the need for any investor to cut any corners," said Mr Qi.
In a statement dated February 15, 2022, a total of 38 civic society organisations in Mutare said no mining should take place on Dangamvura Mountain.
"A resolution was made by residents of Mutare at a public meeting held at a local hotel on January 27, 2022. At that meeting, the Mayor of Mutare (now recalled), Councillor (Blessing) Tandi presented his case, but all residents unanimously demanded that the Freestone Mine deal be cancelled.
"Councillor Tandi acceded and indicated that the decision might be rescinded. The people of Mutare left the meeting hoping that the next big announcement to come from Mutare City Council will be the cancellation of the Freestone Mine deal.
"We note with deep concern the renewed efforts to fast-track a consultative meeting that was never publicly announced. We find it unreasonable for elected officials to go against the wishes of those who endure long and sometimes frustrating voting processes to elect them. We feel betrayed, but more emboldened to defend our God given flora and fauna," reads the statement.
The residents called on the Minister of State for Manicaland Provincial Affairs and Devolution, Honourable Nokuthula Matsikenyere to attend to the concerns of Mutare residents and stop the envisioned mining project.
"We also call upon EMA to take advantage of the current consultative process on the EMA Act Amendment Draft Bill to propose measures that will ensure that EIAs are not cosmetic and fraudulent, but that they are indeed informed by the concerns of the people and environmental experts," said the residents.
A recommendation was also made for Government to consider offering the Chinese investors another site for their operations, far away from residential areas.
In an interview, one of the proponents of the mining project and former Mutare Mayor, Mr Tandi said the necessary due diligence was carried out before bids for the project were invited.
"Everything regarding this project was done above board and we are open for scrutiny, be it from the Zimbabwe Anti-Corruption Commission (Zacc) or the Zimbabwe Republic Police (ZRP). No official at Mutare City Council was bribed to facilitate this deal.
"We did a feasibility study which showed that the place is suitable for mining. We also carried out a field visit to Harare where a similar project is operating smoothly.
"The investors committed to investing in less noisy modern equipment. They said there won't be a lot of blasting, hence nearby houses will not be affected. People have their own views but this investment has the opportunity to benefit Mutare and the country at large," he said.
"Some people might argue that the lease fee is insignificant but this was subject to periodic reviews," said Mr Tandi, adding that bickering over the deal might scare away potential investors.
In a statement, Mutare City Council said it has instituted investigations into alleged bribes offered to some of its officials.
"May it be known that council does not condone corruption and all employees are bound to adhere to the core values of transparency, accountability, integrity, equity, responsiveness and team work.
"Council has instituted investigations into the matter and as of now has not found any incriminating evidence against any council officials. We urge residents and media practitioners to avail evidence to either council or any law enforcement agents so that we avoid peddling unsubstantiated allegations," reads part of the statement.