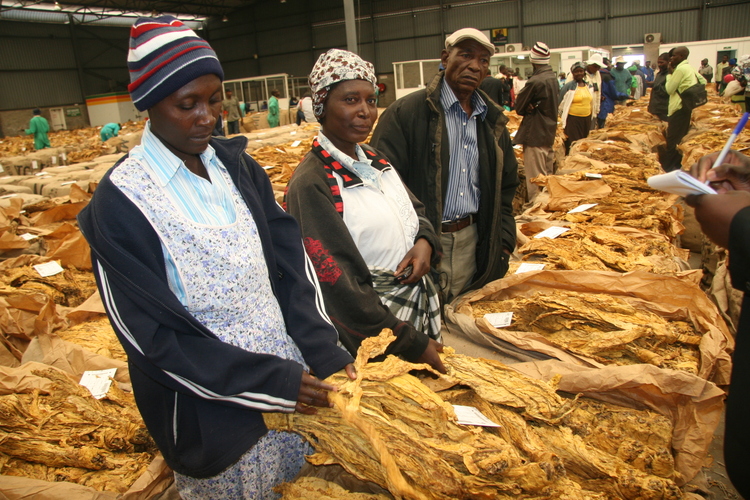 The ManicaPost
Samuel Kadungure
Senior Reporter
TOBBACO growers are content with the opening prices at the auction floors, with the highest so far at US$5,30 per kilogramme, amid optimism that this could be one of most lucrative marketing seasons for the golden leaf producers.
The 2023 marketing season opened last week on Wednesday, with the first bale to go under the hammer fetching US$4,83.
Five days later, the prices firmed to US$5,30 per kg.
This year's average price is US$2,63, compared to US$2,62 in 2022, giving an upward variance of 0,01 percent.
The highest price of US$5,30 was recorded at Ethical Leaf Tobacco (ETL), but is however still lower than the US$6,50 obtained during the same period last season.
The lowest price recorded so far is US$ 0,60, compared to US$0,80 offered last season.
Given the good rains characterising the farming season, 2023 is anticipated to be one of the best seasons with respect to quality, weight and pricing of tobacco.
Growers were also optimistic that the 'good crop and poor price' dilemma which characterised the 2022 tobacco marketing season will not be replicated.
Traditionally, tobacco growers deliver primings (lower leaves) first in order to test the market waters.
A survey done by Post Business in Manicaland showed that while most farmers are happy with prices currently obtaining at both contract and auction floors, some had some misgivings.
The Zimbabwe Tobacco Union (ZTU)'s secretary for economic affairs, Mr David Guy Mutasa said although the prices are fair, there is unwarranted rejection of bales, thereby adding costs to growers.
Mr Mutasa, who is also a commercial tobacco farmer in Makoni, said farmers are incurring extra costs of taking the bales back to their farms for regrading.
"I think the prices are fair considering that most farmers are delivering tobacco primings, not the high quality leaf. We hope the prices will firm as the quality of the leaf improves.
"However, we are saddened by the high number of bales that are being rejected. There is no solid basis to reject the bales and as a union, we are looking at these concerns and trying to see what we can do so that we do not add unnecessary cost to the farmers," Mr Mutasa.
Mr Shupikai Mvurumutiya of Odzi said he was happy with this year's opening average price of US$2,63 per kg.
Mrs Moleen Chiwukira of Nyahukwe in Makoni said the high prices for low grade tobacco gives hope for exciting times ahead.
She, however, decried the incessant rains that are posing challenges to tobacco harvesting, curing and packaging.
In some cases, there has been labour shortages, blockage of roads and collapsing of barns and storage shades.
Tobacco Farmers' Union Trust president, Mr Victor Mariranyika said the minimum entry price and the price matrix enshrined in the Tobacco Marketing and Levy Act, Chapter 18:20 (Section 70) must be implemented to cushion farmers against exploitation.
"Farmers are expecting firm prices which are production cost driven.
"Last season, we had an upsurge in prices of fertilisers and fuel due to the global geo-politics which impacted negatively on production costs of a unit kg of tobacco and the buyers should reflect such.
"As tobacco growers, we are stepping up our bargaining powers in order to realise value for our crop.
"The current old price model does not promote business on the farmer's side and it is even better to hold on to the crop until the market prices improve," he said.
Mr Mariranyika said Manicaland is a hub of tobacco growing, but is grappling with the reduction number of auction floors licensed to operate.
This, he said, is against the spirit of devolution being spearheaded by Government.
"This means our farmers will fork out more in transport and time costs.
"Decentralisation is in line with devolution as spelt out in the national Constitution.
"The tobacco sector is not devolving and is instead short-changing the grassroots it should be empowering.
"At decentralised auction floors, farmers can freely bargain for better prices for the crop without the hustle of travelling long distances and sleeping in the open. They can even use scotchcarts to deliver their tobacco, thereby cutting on transport costs," he said.
However, while things are looking up for this season, some farmers are yet to be paid for the deliveries made in June 2022, resulting in some of them being pushed out of business.