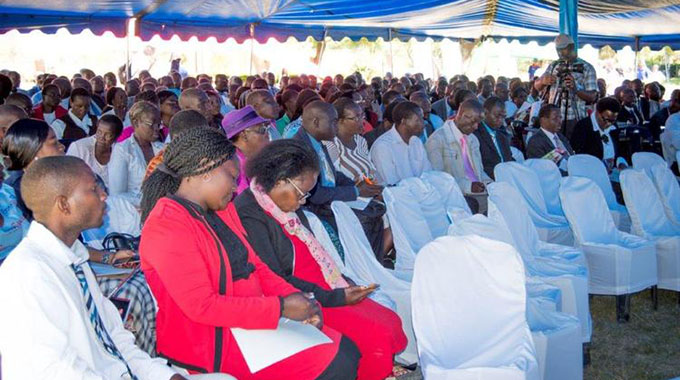 The ManicaPost
Samuel Kadungure Senior Reporter
OK MART Mutare is aggressively spreading its tentacles to schools in all districts in Manicaland in a bid market and popularise its brand and affordable commodities under its roof. Last Friday the retail giant held an education expo at John Cowie in Rusape that was attended by hundreds of school heads and SDCs. OK Mart Mutare was partnered by the likes of Econet, Stewart Bank, Nyaradzo Funeral Services, PSMI, Dulys, Coca-Cola, Champions, The Manica Post and SeedCo, among others.
OK Mart Mutare liquor manager Mr Obey Mereka said their brand was a unique.
"We are targeting schools to market the brand called OK Mart. The schools have lots of needs, ranging from furniture, groceries to ICT gadgets, and this expo was meant to notify them that unlike other retail outlets, OK Mart has all they need under one roof and at affordable prices.
"Most schools in Mutare are doing business with us, but those outside were not really abreast with us, and this is the reason why we are having this expo in Rusape. We will have similar expos in the remaining districts in Manicaland. We offer commodities in bulky and offer massive discounts. When schools buy in they enjoy discounts, and that is the competitive advantage we offer compared to other conventional shops.
"We have a wide range of stocks that we regard as general merchandise that includes stationary to sporting. We have a sporting department that is reaching out to schools and coming up with initiatives that are mutually beneficial to both parties," said Mr Mereka.
He said OK Mart Mutare has various in-shop competitions where participating schools can win an assortment of prices upon purchasing goods within a certain threshold.
Mr Mereka said the inclusion of various partners at their expos was meant to adequately inform and capacitate school heads.
"The bigger we are the better, and we are moving around with our big brother Econet, but outside them we have other partners that offer a divergent of skills and advice to school heads and SCDs," he said.
With government setting the heat on schools over procurement misdemeanors, the initiative could not come at a better time, especially for hard-to-reach schools in rural areas.
"We are encouraging schools to deal with reputable businesses so that they have adequate paper trail for audit. We are opening their eyes, and offering them a service that passes the test of audit, hence making their life easier," said Mr Mereka.
"I would like to appreciate that schools are giving us good business. We get repeat business from boarding schools and in return expos like this impart to school heads skills on saving, retail, financial literacy and customer care, among others," he said.
Mr Allen Mapasure, of Econet said the expo enabled them to put all their education-related products at the schools' door step.
Econet offers products like Enda, Vaya, Ecosure, Edu-loan and Higherlife Foundation that assist students and schools in various ways.
"Schools are appreciating our services, remember we have cash challenges in the country, and 90 percent of parents and guardian pay their school fees via Ecocash. Most schools now have merchant codes and through Ecosure, they can actually come up with a burial society for the schools. The schools can use that fund to assist the bereaved without actually digging into their coffers," said Eng Mapasure.
"We are partnering with the education sector through the provision of the latest technology for them to be able to impart to knowledge to students. We offer internet connectivity through Liquid Telecoms. If they need to have their labs connected, we offer that service at affordable prices. Upon being connected, the schools can acquire the ICT gadgets through Edu-loan. Going forward, we hope to improve and strengthen this partnership," said Mr Mapasure.