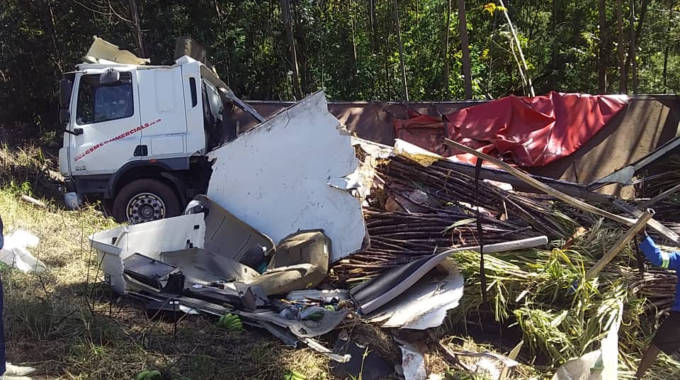 The ManicaPost
Senior Reporter
THE death toll in the Nyanga accidents which involved two trucks carrying an assortment of fruits destined for Harare has risen to seven, after one of the casualties died on admission at Nyanga General Hospital.
The latest victim was identified as Brian Zuze, of Honde Valley, who was in a truck that was involved in an accident at Baringa, near Juliasdale.
Six people died on the spot while 25 others were seriously injured in two separate accidents that occurred at the 50km and 79km pegs last week on Wednesday night along the Rusape-Nyanga Road.
The other six victims who died on the spot were identified as Jambo Pawanyiwa, Ananiah Madzitire, Judah Chimbo, Grace Masona, Annah Nyamutsaka and Priscah Guta – all from Chavhanga Village, under Chief Mutasa in Honde Valley.
The two trucks were overloaded with bananas, avocados and sugarcane, with passengers precariously clinging at the top of the produce.
National police spokesperson, Assistant Commissioner Paul Nyathi confirmed the accident.
The Mercedes Benz and DAF trucks were travelling to Harare, with 16 and 17 passengers, respectively.
The Benz truck burst its front left trye, and the driver tried to control it, but failed.
Upon reaching the sharp curve, the truck veered off the road and overturned, trapping six people to death, while injuring eight.
Some of the victims, who were seated on top of the load were thrown out of the moving truck, while some were trapped in the wreckage.
The second accident occurred at the 76km peg.
The DAF truck which had 17 passengers failed to negotiate a curve at Bandana and overturned.
Five of the injured victims are said to be in a serious condition at Nyanga General Hospital, where Zuze died on admission.
The victims are recovering at Nyanga and Bonda hospitals.
They allegedly sustained head, spinal, shoulder, fractured limps and ribs and soft tissue injuries.