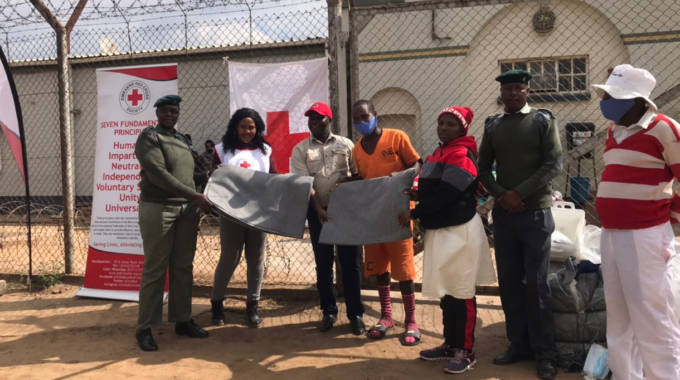 The ManicaPost
Tendai Gukutikwa
Post Reporter
ZIMBABWE Red Cross Society (ZRCS) today donated 50 blankets to inmates at Mutare Remand Prison.
The shortage of blankets coupled with lack of bedding left prisoners pleading with well-wishers for blankets and warm clothing in the form of jerseys through Zimpapers' commercial radio station, Diamond FM's 'Let's Talk Correction' radio programme hosted by Michelle 'Mai Onini' Bwititi.
Handing over the donation, ZRCS Manicaland provincial manager, Mr Munyaradzi Chikukwa said they were moved by the inmates' plight as it is their mandate to alleviate human suffering.
"The ZRCS ensures humanitarian protection and assistance for everyone in need and the inmates at Mutare Remand Prison are a good example. It saddened us when we heard that some of them were sleeping without even a single blanket or bed sheet in this weather.
"Had it not been for Mai Onini, we would not have heard of what our incarcerated brothers and sisters are going through. We heard that inmates are sleeping without bedding in these freezing temperatures and immediately sourced donations so that we could help them," he said.
The donation also included jerry cans which will be used for gardening and other income-generating projects at the prison, personal protective equipment in the form of masks and hand sanitisers as well as hygiene kits with laundry and bath soap as well as sanitary wear.
Mr Chikukwa promised to continue sourcing for more donations.
"It is our belief that this will not only be done in Manicaland as ZRCS serves the whole nation. Other provincial centres will assist other prisons and needy institutions in their provinces, funds permitting," he said.
Receiving the donations on behalf of the Officer Commanding Zimbabwe Prisons and Correctional Services in Manicaland, Commissioner Spetosomusa Moyo-Chinobva, Deputy Director Human Capital Management, Chief Superintendent Patience Muzari thanked Bwititi for airing the plight of the prisoners, saying had it not been for her, Zimbabwe Red Cross Society would not have heard of their plight.
"Thank you so much for the blankets because our inmates have, indeed, been struggling to adjust to the cold weather conditions. We hope that you will keep coming back with more donations and that you will not only assist this particular prison, but other prisons across the country as they are also facing similar challenges," she said.