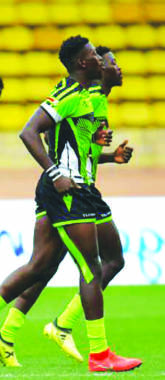 The ManicaPost
Ray Bande
Senior Reporter
MUTARE-BORN twins – Munesu and Munopa Muneta – who were both part of the Cheetahs squad during the recent Olympic Repechage Tournament in Monaco, say the trip inspired them to achieve more in the game of rugby.
Inexperience was the Cheetahs' biggest undoing in the Olympic Repechage Tournament even though a lot of positives were drawn from their above average performance.
The Olympic Repechage Tournament offered the final chance for Sevens' rugby teams to qualify for the Tokyo Games next month, but the Cheetahs finished fifth.
The Cheetahs got off to a good start in the competition by whitewashing Mexico 21-0 last Friday and then fell to Ireland 10-31 and 7-33 to Samoa to exit the tournament.
However, the young Cheetahs, finished their Pool A and tournament on a high note by beating Tonga 26-17 on Sunday.
Ireland were crowned champions in the men's tournament, while France and Russia were the two women's sides that booked their tickets for the Tokyo 2020 Olympics.
In an interview from Monaco after their impressive display, Munesu, said: "I am definitely happy with the outing. We put up a good performance and showed why we are here at this tournament. Although we had a few errors here and there, we will work towards correcting them in future assignments.
"We were all fighting for a spot to qualify for the Olympics and it would have been great if we had made it. We are now inspired to achieve more through what we have learnt here."
The Muneta twins, who started playing rugby at Highveld Primary School in Rusape under the tutelage of coach, Willard Chabwera, gave a brief account of their early days in the game.
"A lot of people have helped us to get us to where we are now. We want to thank God for bestowing the talent upon us. All the glory goes back to Him, our family for always supporting us and backing us up, Willard Chabwera, Chris Mhike, McKenzie Munetsi, one Mwayera, Bezuidenhout, Gideon Muyambo, Ngoni Chibuwe and the entire Cheetahs team. It is really a blessing to be part of this great outfit.
"Chabwera was the man who introduced us to the game and we loved it. At high school at Hillcrest College we also played for the school team. We had good seasons being coached by Chris Mhike.
"The Cheetahs squad has been very welcoming. I feel like I am part of something great. It has been our goal to represent the country ever since we started playing this game," said Munesu.