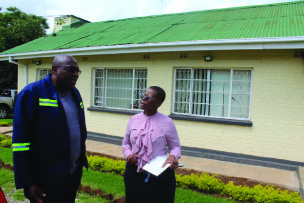 The ManicaPost
Tendai Gukutikwa
Post Reporter
AS the drive by the Second Republic to take the justice delivery system closer to the people becomes a reality, the Judicial Services Commission (JSC) has officially commissioned a resident magistrates' court in Chimanimani District.
Chimanimani District was the only district in the province that had a circuit court, while Buhera, Chipinge, Makoni, Mutasa, Mutare and Nyanga districts all had resident Magistrates' Courts.
Most cases from the district were transferred to Chipinge Magistrates' Court for finalisation.
Speaking during a tour of the Chimanimani Magistrates' Court last week on Thursday, JSC secretary, Mr Walter Chikwana said Government has stepped up efforts to ensure that the justice delivery system is in every corner of the country by constructing Magistrates' Courts in every district.
He said the move is being done especially in remote districts where people previously faced challenges in accessing judiciary services and had to commute to nearby districts for services.
"In districts where JSC has not yet opened, the relevant courts — circuit courts — are available and offer services for the people.
"When we opened the 2023 legal year, Chimanimani was one of the districts that were scheduled for a resident Magistrates' Court and we are glad that we managed to open it on February 3 and it has been successfully operating since then," said Mr Chikwana.
He added: "The development dovetails well with the National Development Strategy 1 (NDS1) and our target is to, in the very least, have opened resident Magistrates' Courts in Masvingo, Matabeleland South, Matabeleland North, Mashonaland Central and other provinces.
"Chimanimani District was also part of our target this year and we have already met it. In these places that I have mentioned, we have noticed that litigants are travelling hundreds of kilometres for them to access the nearest courts, so we are keen to make sure that we open courts there."
He said JSC also continues with its desire to decentralise the High Court.
"The objective is to have the High Court in every province and we are now targeting Matabeleland where we will situate our High Court in Gwanda. We are constructing a multi-court complex there," he said.
High Courts are in Mutare, Harare, Bulawayo and Masvingo.
"This is part and parcel of the Vision 2030 and we are very clear about what we want to do in terms of decentralisation. We have already planned for the decentralisation process financially.
"It is part of our budget and we are grateful to the Ministry of Finance and Economic Development as it is providing us with the necessary support for us to decentralise," he said.