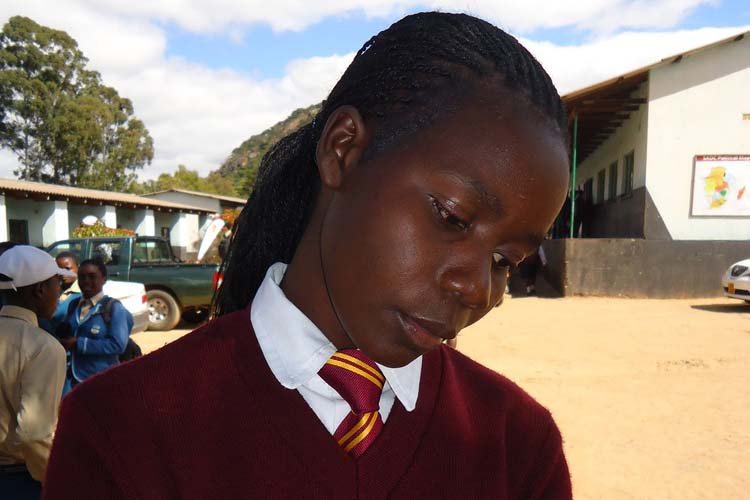 The ManicaPost
Morris Mtisi Education Correspondent
CALM, serene, quiet, unruffled are some of the words you could use to describe Chipo Beretu on face value. You talk to her or she talks to you, you begin to discover quiet intelligence and yawning appetite to succeed in that blameless look and innocent purity.
Last week Friday 15 June 2018 was Nyanga District Careers Day organised by Ministry of Labour and Social Welfare, Employment Services, in partnership with Ministry of Primary and Secondary Education-Department of Guidance and Counselling. Many companies and organisations, including teacher education colleges and universities were exhibiting what they offer for students after their school.
What does Chipo Beretu do? She pulls out of the crowd and asks for special permission from an accompanying teacher and Education official present, one Taurai Bernedict Sango. She wants to talk to MM. Permission granted, Chipo bravely and confidently approaches MM reminiscent of the Biblical Nicodemus. She asks, "Mr Mtisi, I follow your guest columns and articles with passionate interest all the time I am lucky to come across The Manica Post. What can I do to become a journalist?"
I look at the little girl, pleasantly shocked with her courageous and nagging anxiety and ask her, "There are numerous career opportunities being exhibited here today. What has driven you to nicodemously come see me?"
"Journalism is my life dream. When I read your articles in The Manica Post and sometimes tune in to Diamond FM Radio and listen to your Head-to-Head with MM interviews, I say to myself, 'wow, I can do that!
"I want to do that! You are such an inspiration. I say to myself, I want to speak like that. I want to write like that." The rest is history.
I was touched by Chipo's intelligent courage and daring to pull out of a massive crowd and pursue what her heart tells her. How can I help?
I arrive back home and get in touch with the member of parliament of the community or constituency Chipo's little known Mapako Government High School is located who also happens to be Minster of Information and Communication Technology, Honourable Supa Mandiwanzira, himself a former top-shelf radio and newspaper journalist. "Honourable, I want you to find it in your heart to help me to help this 19 year old Form 5 girl at Mapako Government High School to have her dream of becoming a journalist come true. Together let us do all we can to put a little rainbow at the end of this young girl's cloud."
Honourable Supa Mandiwanzira replies via WhatsApp: "Will be very happy to help her." How Chipo Beretu will be assisted to have her dream come true, I have already started suggesting to Man-of The People, Honourable Supa Mandiwanzira. Of course Chipo's parents and her school also need to be consulted and involved. I will keep you all avid followers and readers of this celebrated education column posted on this fascinating development. Watch this space!
Chipo! Pray and keep your fingers crossed! God has already answered your prayer and noted your dream! Simply pray, God will do the rest. He heard your prayer before you made it.