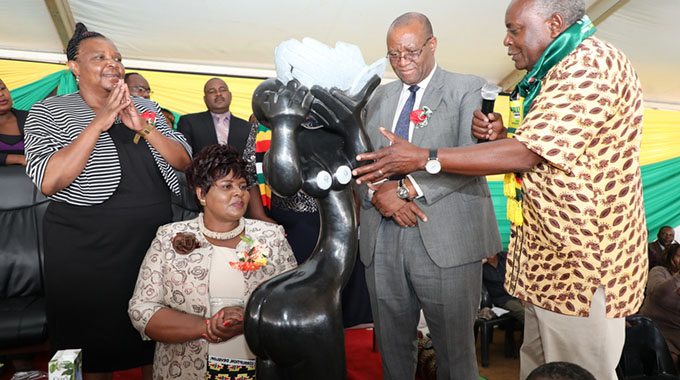 The ManicaPost
Wimbainashe Zhakata Post Correspondent
THE Minister of State for Manicaland Provincial Affairs Dr Ellen Gwaradzimba, said she is a unifier and was sent by President Emmerson Mnangagwa to bring together all stakeholders in the province and work towards development.
She said she would welcome everyone regardless of political, social and religious background in issues targeted at uplifting the lives of people in the province.
Speaking at a welcome reception held for her in Mutare last week, Dr Gwaradzimba said she was humbled by the gesture.
At the reception, Makoni Rural District Council chairperson Mr Guy Mutasa, who was representing the Association of Rural District Councils in Manicaland, presented the minister with a statue, which he said was a symbol of unity.
"Thank you Manicaland for welcoming me in style. President Mnangagwa saw it fit to give me the task of working for this province. I am not a minister for Zanu-PF only but I represent everyone despite their political or religious affiliation. I am here to make sure that we work together to make Manicaland great again," said Dr Gwaradzimba.
She said she would ensure that Zanu-PF  members in Manicaland were united and get rid of unruly elements bent on destroying the party.
"As a unifier I will not tolerate divisions. I am here to unify Manicaland. I am also here to watch those people who are mischievous and plan to divide the party. We are saying no to confusion in Manicaland. Let us walk in a straight path and achieve greatness in our province," she said.
Dr Gwaradzimba encouraged Zanu-PF members to accommodate those who had lost their ways and moved to other political parties during the run up to the July 30 harmonised elections.
"I am giving you an assignment to go and accommodate those who lost their way and moved from Zanu-PF. Welcome them with both hands and show them the way.
"Talk to them and try to understand why they left in the first place. We do not want those who push others away from the party. United we stand and divided we fall," she said.