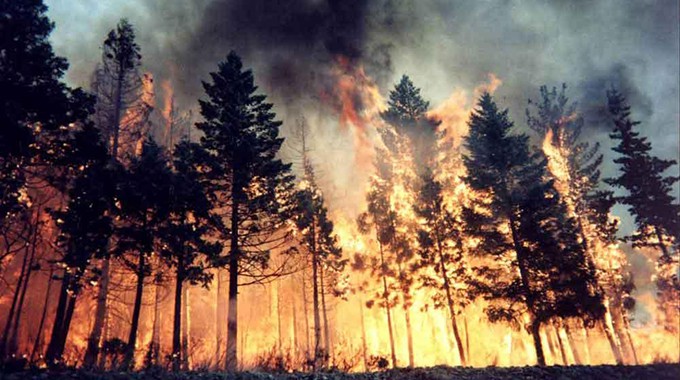 The ManicaPost
Senior Reporter
FORESTS in Manicaland continue burning and serious questions are being asked on who is to blame for the catastrophic fires that are consuming our scenic biodiversity.
While pinning down the culprit is difficult, at the root of it all is a destructive combination of recklessness, laxity in enforcing existing laws and climate change.
Most of the fires are man-made and intentional — the result of illegal deforestation, hunting and clearing of farmland, mostly in Makoni, Chimanimani, Nyanga and Mutare districts.
Although the Environmental Management Agency (EMA) statistics for 2022 are not yet out, the fire dashboard is already red, signalling a growing danger to the forests.
In 2021, the province lost 20 642.05 hectares, thereby impinging our forests' ability to absorb, store and recycle water as rainfall.
Incidence of veld fires are high in A1 areas, followed by A2 farms, commercial plantations and old resettlements.
Communal areas have minimal veld fires due to the traditional leaders' tight grip.
As the soil dries out and vegetation cover is lost, the forests shift from being fire-resistant to fire-prone.
This is one of the most traumatic things humanity can ever do to an ecosystem.
The current climate crisis, however, has multiplied the likelihood of both wildfires and traditional burning cycles spinning quickly out of control.
Rising temperatures and extreme heat dry out ecosystems to the point of extreme vulnerability.
Regardless of the existence of several laws — the Environmental Management Act (Chapter 20:27) of 2007, Parks and Wildlife Act (Chapter 20:14) of 1996, the Forest Act (Chapter 19:05) of 1996 and the Traditional Leaders Act of 1998 — aimed at preventing wildfires, the catastrophic blazes continue razing down our forests.
They are causing unprecedented damage to natural resources, animal habitat and even leading to the loss of lives and property.
Environmental Management Agency (EMA) Manicaland provincial manager, Mr Kingstone Chitotombe said weak law enforcement is making things worse.
"We have laws against veld fires, we conduct door-to-door campaigns, and yet veld fires are still rampant in our communities. The medium we have been using has therefore not been effective.
"It should not be a one-man band, it requires a multi-sectorial approach," said Mr Chitotombe.
He said EMA, the Forestry Commission, traditional leaders, local authorities, civic society and the police must work in unison to eradicate the scourge.
"Local authorities own the jurisdictions where the veld fires are occurring, but are not doing anything at all to combat the scourge. We also need incentives for communities preserving their natural resource base.
"The private sector should come in as they have a stake, especially those in agriculture and timber businesses, because when fire breaks out, production suffers. They need to invest in fire management.
"The same applies to entrepreneurs harvesting forestry produce, they must have a hand in fire management to protect the base of the produce they are extracting," said Mr Chitotombe.
"We also need those involved in climate justice to come to the party. Even the local governance sector should come in to initiate natural resource preservation to reduce areas burnt by veld fires. We need a multi-sectorial approach with all the provincial, district, ward and village fire structures," he said.
"Plantations normally experience big fires and tend to lose more as this involves commercial timber.
"Ecologically, the wildfires retard vegetation succession — areas repeatedly run over by fires do not have sprouting tree shoots because as soon as they sprout, they are burnt out.
"We also lose particular species of trees and grasses that would have been gutted out by fire, while some undesirable species are activated by the fires," explained Mr Chitotombe.
Some invasive species also take advantage of the cleared areas to shoot up, while some hostile grasses are propagated by heat after being cracked out of their hard cocoon seeds.
"As a result, we end up with undesirable vegetation replacing the indigenous vegetation.
"We also lose the root structure of major plants that bind the soil together.
"Manicaland is a mountainous terrain with fragile slopes and when the fire burns out trees with deep root structures, the soil is left loose, which then triggers landslides," he said.
In addition to this, the smoke produced in the infernos produce huge amounts of carbon dioxide, thereby causing global warming.
Forests' burning is the largest contributor to greenhouse gases emission in Zimbabwe.
The infernos also lead to increased loss of agricultural produce, reduced food availability for humans and animals, reduced vegetative cover and loss of property.
The overall impact is household food insecurity and loss of shelter.
Farmers lose livestock to the veld fires. The fire also chews pastures, thereby leaving farmers struggling to feed their livestock.
For poor and vulnerable families, loss of assets, housing and harvests exacerbates their already low food and income security, thereby ushering them into a deep poverty cycle.
In fact, loss of livelihoods may disintegrate families.
National trees ambassador, Mr Never Bonde said campaigns against veld fires and climate change must be introduced at school level.
"Veld fires cannot be tackled individually, it requires concerted collective efforts. We need to rope in schools so that learners are aware of the effects of climate change, veld fires and deforestation from a young age.
"We need to raise a generation that is ideologically clear about these evils. If we catch them young, they will grow up doing the right things," said Mr Bonde.
He also said the dissemination of information on veld fires, climate change and deforestation must be in local languages.