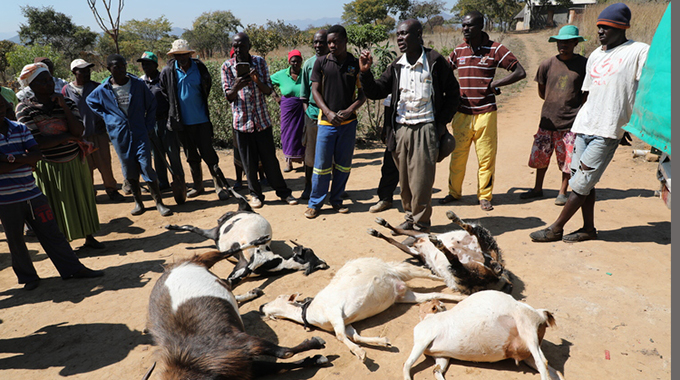 The ManicaPost
Emmah Chinyamutangira Post Correspondent
A POTENTIALLY explosive situation is fomenting in Chief Mutasa's area where a villager is being accused of poisoning seven of his neighbours' goats and stealing more than five cows from other villagers.
When The Manica Post visited Premier South village last week, most villagers who had lost their livestock were baying for Admire Garwe's blood.
They alleged that Garwe stole five beasts in the village before he fled to South Africa in 2014. Since coming back home sometime this year, Garwe has had constant disputes with his neighbours resulting in him allegedly stabbing a man during a dispute over a missing sheep, which Garwe left in the care of the villager before he left for South Africa.
The day after the stabbing incident, seven of the villager's goats were found dead and suspicion is rife that Garwe poisoned the water source used by the goats.
The villagers meted instant justice on Garwe for the suspected killing of their goats, unleashing chaos in the community.
Petros Murahwa a villager said he suspected Garwe stole two of his cattle in 2013 and also poisoned the goats.
"We are now afraid that our water sources are not safe because Garwe might put poison in the wells and boreholes. Yesterday (last Friday), seven goats just dropped dead and had distended stomachs and were frothing at the mouth.  Before the goats died, he sprayed poison on maize stalks in his field to stop our cattle from grazing in his field," he said.
The villagers have since lodged a complaint against Garwe at Penhalonga police station.
Manicaland provincial spokes person Inspector Tavhiringwa Kakohwa confirmed the incident.
"Admire Garwe from Premier South village is suspected of poisoning seven goats. It is believed that he put poison  in the water, which  the animals drank. In 2013, he was also accused of rustling cattle in the village and the villagers reported him to the police before he ran away to South Africa," he said.
He said when Garwe went to South Africa, he left his sheep in the care of Shame Simoko from the same village.
"When he (Garwe) came back from South Africa, he and his wife went to Simoko's place to collect the sheep but Simoko could not give him back the sheep .They started arguing and a fight ensued where the two slashed each other using machetes," said Insp Kakohwa.
He said while Garwe was on his way to make a report to the police, Simoko followed and stabbed him with a knife several times on his face.
The two sustained injuries and were taken to Mutare Provincial Hospital the following day for treatment.
On returning home from hospital, Garwe was met by an angry mob that claimed he had poisoned the goats before assaulting him.
Police officers from Penhalonga station attended to the scene of the dead goats.
In his statement to the police, Garwe said the goats had eaten tomatoes in his garden in the morning.
The villagers alleged that police had dragged their feet in dealing with cases of cattle rustlers in the area.
"Several incidents of livestock theft are occurring in this village and people are losing their cattle, hens and goats. We report our cases, but the police are dragging their feet to investigate them. We feel that some of them (cops) are working in cahoots with the rustlers since one of the police officers who attended the scene was threatening us," said one villager who preferred to remain anonymous. Insp Kakohwa however said the police would not hesitate to bring to book anyone caught stealing livestock. "We are urging villagers who lost their livestock to come forward and report the cases so that we get to the bottom of these thefts. We are told there are several complainants and we want them to come forward. Investigations are in progress to establish what actually transpired," he said.