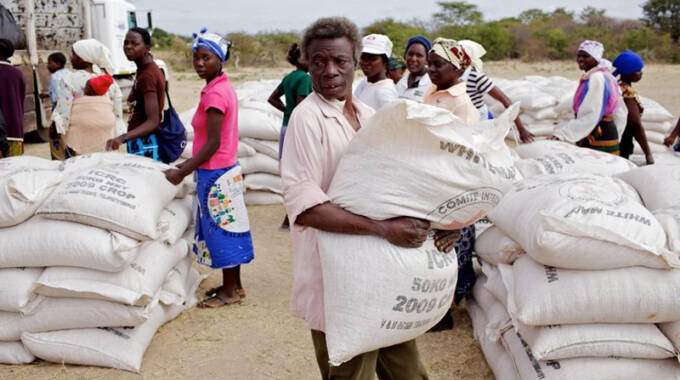 The ManicaPost
WHILE the country's rainy season historically stretches from October to March; last year there was a shift that was felt across Zimbabwe.
The 2021/2022 farming season was marked by a false start in most areas of the country, followed by an unevenly distributed rainfall pattern and then early cessation of the rainy season across all agro-ecological regions.
In addition to being affected by extreme weather events such as cyclones and floods, climate change, which is becoming more pronounced, is bringing harsher and more frequent dry spells to Zimbabwe, thereby threatening the staple maize crop and leaving several families food insecure.
Over the years, rain has generally become unpredictable in Zimbabwe and beyond.
As a result of last season's intermittent rainfall, the country's harvests took a knock.
In fact, maize, which is the staple grain, nosedived from the previous season's multi-year record of 2,8 million tonnes to about 1,6 million tonnes.
With the country requiring 2,2 million tonnes of maize annually for human and livestock consumption, last season's poor harvest created a huge deficit that is already being felt across the country, including in Manicaland's drier regions.
Fortunately, the country as a whole remain food secure in light of the fact that some grain remains in storage from the 2020/2021 harvest.
The Ministry of Public Service, Labour and Social Welfare has since indicated that about 30 000 tonnes of maize are required every month to feed the country's food insecure households.
It is comforting to note that the country's strategic reserves are holding enough grain to comfortably meet and even surpass this demand.
Government has therefore stepped in to ensure that the grain is transported and distributed to those in need of food aid so that no one goes to bed on an empty stomach.
The distribution chain of the food aid has also been remodelled to promote accountability and to ensure that there is no discrimination along political, racial or ethnic lines.
But as we address the issue of food insecurity, Government has also intensified the implementation of several measures to mitigate the effects of climate change and ensure household food self-sufficiency going forward.
Government will fund a programme in which leaders across the country will lead in the production of food as the Zunde raMambo/Isiphala seNkosi has been extended to all headmen and village heads.
In line with its ratification of the United Nations Framework Convention on Climate Change, Government has also crafted a National Climate Change Response Strategy to deal with issues of adaptation, mitigation, technology, financing and awareness on climate and disaster risk-management policies.
As a result, the Pfumvudza programme and the various Presidential inputs and livestock programmes were rolled out not so long ago to ensure that farmers produce enough for their families, with the surplus going into the country's strategic reserves.
Pfumvudza is a conservation agriculture approach under which farmers ensure the efficient use of inputs and labour on a small area of land in order to optimize its management.
Practicing Pfumvudza means producing more on less land and with less resources.
The climate-proof method is hinged on several core principles that include practicing minimum soil disturbance or tillage, having permanent soil cover by using organic mulch and using crop rotations and intercropping cover crops with main crops.
This year, the Pfumvudza programme is targeting to support over 3,5 million vulnerable households for maize, sunflower, small grains, soya beans production.
Government has already released $20 billion for the programme as efforts to ensure food security continue.
At the instigation of Government, small-holder farmers have also in recent years turned to using water-saving drip irrigation.
Manicaland is home to Nyakomba Irrigation Scheme (Nyanga) and Chiduku-Tikwiri Irrigation Scheme (Rusape), among many others.
Through these initiatives, farming has been turned into a full-time venture that can be done all-year round.
The nation eats every day and therefore we do not have the luxury to wait for the rains to plant our crops.