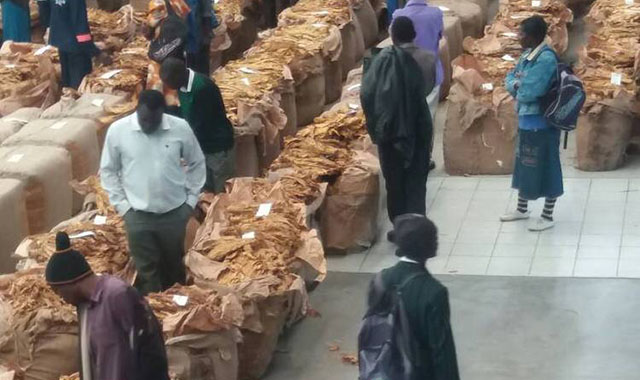 The ManicaPost
Rumbidzayi Zinyuke Senior Reporter
Year in year out, unsuspecting tobacco farmers, both new and seasoned, have fallen prey to thieves and predators who seek to rob them of their hard earned cash.
Many have been left counting their losses especially those who had to travel from faraway places to sell their tobacco in Harare.
For farmers in Manicaland, the possibility of falling victim to these predators has become a thing of the past following the opening of two tobacco auction floors in Rusape earlier this year.
Not only has the move to decentralise tobacco marketing reduced the risk of losing out to thieves; it has drastically reduced costs associated with travelling to Harare for most farmers.
Farmers can now afford to bring their tobacco to the auction floors and come back the next day if they fail to conclude their business on that same day.
And the farmers are happy with this arrangement.
Mainly because the prices are not so different from the ones being offered in Harare.
It is unfortunate that one of the auction floors, Agritrade Leaf Tobacco (ALT), has since closed down following allegations of corruption, duping and ill-treating farmers.
But operations at Boka Auction Floors are still going ahead as usual. And being the only player left in the province means they have to step up their game.
As testimony to this, Mr Samuel Matere, a farmer from Nyamkondiwa farm in Nyazura last week received one of the highest prices of the season at $5,40 per kg.
"This is my second sale at Boka and I got bales that sold at $5,40 per kg while the rest sold at $4,65. I wont complain because the prive is as good as I would have received in Harare, if not better, because I don't have any added transport costs," he said.
Mr Matere is farming tobacco on 7 hactares of land and he has sold more than 87 bales of tobacco this season. He expects to bring in a similar amount of tobacco before the season ends in August.
"I urge farmers in Manicaland to produce good quality tobacco and to use the right amount of fertilisers for them to get good prices like I did," he said.
Female growers in particular have welcomed the opening of auction floors in the area seeing that they were easy targets for criminals in Harare.
Mrs Try Mudonhi said selling tobacco in Rusape has been one of the best experiences she has had as a farmer.
"We have been selling our tobacco at Boka floors since March this year and I am happy. As women, we are easy targets for robbers but here our tobacco is received as soon as we get here and we conclude our business with non of those hassles we used to get in Harare. We even get to go back home to wait for payment and only come back here once it has been processed," she said.
Another farmer Mrs Fungai Murunda said she was particularly happy to sell her tobacco in Rusape because she could plan on how to use that money with her husband as soon as payment was done.
However, much as the farmers are delighted with selling their tobacco at Boka, they still have worries about the shortage of cash in the country, which has seen them getting only $300 cash while the rest in deposited in their bank accounts.
Boka Auction Floor head of leaf and sales Mr Percy Chifamba said the issue of cash was a universal problem that could only be solved by the authorities.
He however said as Boka, they had done all they could to make sure that farmers in Manicaland could conveniently sell their tobacco.
"At the end of the day, we have a happy farmer who we believe will come back next season because we offer them more than just buying the tobacco off their hands.
We are giving them technical support as well because we believe these new farmers need as much support as they can get for them to grow in this industry," he said.
He said Boka was encouraging farmers to grow other crops besides tobacco and widen their income base.
"We want progressive farmers who strive to do well in all that they do. We pay them well and give them assistance they need to produce good results," said Mr Chifamba.
Boka auction floor are currently receiving between 600-700 bales every day and the figure is expected to increase significantly as the season draws to an end.
Tobacco is the main crop in Rusape and surrounding areas such as Odzi and Macheke, and farmers have been struggling to take their crop to Harare.