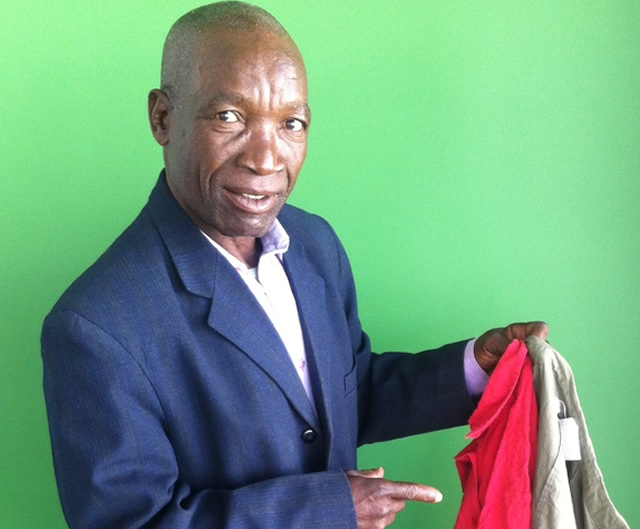 The ManicaPost
. . . hugs, caresses girlfriend's hubby
Blessing Rwizi
AN adulterous affair between a Marondera-based Proton Bakery delivery truck driver and a married client was recently exposed following a shocking incident in which the driver mistook his lover's husband as his girlfriend and went on to hug and caress him in the dead of the night.
Holding new clothes he had bought his 'girlfriend', the driver jumped onto the perplexed husband whom he showered with love overtones and went on to ask him for a bag of clothes which he had left the previous day for laundry.
The driver quacked in his boots when he was replied by a hoarse voice.
The heartbroken Lovemore Mapfuti (62) who dwells in the Grange Area near Old Mutare Mission this week opened up and laid bare how he found out that his wife of 25 years had been cheating on him.
He alleged that his wife, Ronia Mhise (46) was having an affair with the truck driver only identified as Robby.
They used to own a tuck-shop in the Grange Area, where Proton Bakery trucks supplied them with bread since 2014 around 2am every day.
Mapfuti said his wife, Mhise, was the shopkeeper in the tuck-shop since it was close to their matrimonial home, while he spent much of his time at his farm near Old Mutare.
The alleged affair came to light when Mapfuti was left in the tuck-shop on December 19 last year, while Mhise traveled to attend a relative's funeral.
On the day in question, Robby allegedly came to the tuck-shop at around 2am and horned to alert the shop-keeper.
"When I came out to collect the bread, Robby jumped out of the truck holding a plastic bag and hugged me. He thought it was my wife. He happily said he had brought the clothes that he promised to buy my wife. He also asked for the bag of clothes that he had left the previous day for Ronia to wash.
"Shocked by the revelations, I asked him what he was talking about. Upon realising that he had met the wrong person, he apologised instantly.
"He told me that he had been sent by someone else to leave the clothes and collect his laundry too. We started quarrelling, but he jumped into the truck and sped off," he said.
The following day Mapfuti lodged a complaint with Proton Bakery management.
"I contacted Mr Takudzwa Jombe in Mutare for the driver's full details, but he refused, saying he would deal with the case," said Mapfuti and added:
"When my wife came back from the funeral, I asked her, but she stammered.
"Instead, she insulted me and advised me to mind my own business.
"I later told her relatives about the case, but they teamed up and heavily assaulted me for accusing their daughter of having an extra marital affair. A few days later she hired a truck and took everything from our house and tuck-shop," he said.
Efforts to get a comment from Mhise were fruitless as her cell phone was not available.
Proton manager, Mr Jombe confirmed the incident, but he refused to disclose Robby's details.
Instead, he referred The Weekender to Proton head office for a comment and efforts to yield the same were to no avail.