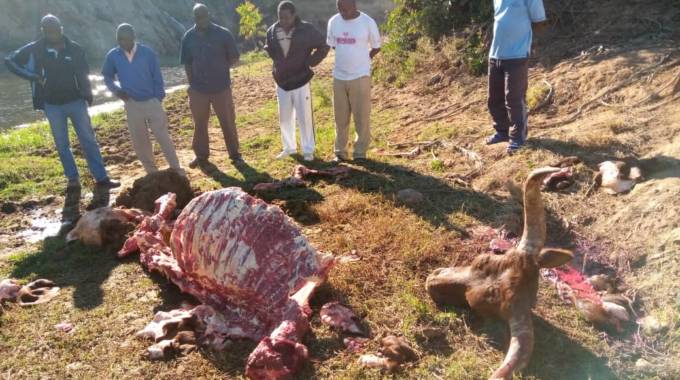 The ManicaPost
Liberty Dube
Post Correspondent
CATTLE rustlers are wreaking havoc in Chimanimani, leaving villagers counting losses, worried and turning to traditional leaders for help.
The rustlers strike at night and slaughter the cattle in secluded areas before vanishing with the bulk of the meat.
Crime and Consultative Committee chairperson of the area and traditional leader, Chief Saurombe, confirmed the development, saying villagers are failing to fathom the loss of their livestock.
The villagers are still reeling from the loss of their livestock, infrastructure and crops, among other things, to the 2019 Cyclone Idai.
Mr Casper Mwatsekenyere of Ward 17 in Chimanimani recently lost one of his heifers to the daring rustlers who slaughtered it and took away the bulk of the meat before dumping the head and the carcass near a river.
"We are extremely worried. It seems it is a cartel because the rustlers never get tired. I am constantly receiving case of stock theft from villagers. The most painful thing is that we are still recovering from the losses caused by the Cyclone Idai disaster which left most villagers with virtually nothing.
"They steal the cattle, slaughter them and probably sell the meat to unsuspecting consumers at a very cheap price. We are working with the police to ensure that the suspects are brought to book," he said.