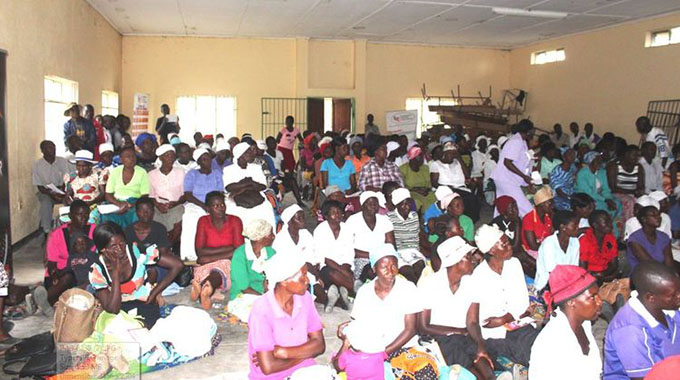 The ManicaPost
Daphne Machiri Post Correspondent
The Zimbabwe Gender Commission (ZGC) has said Manicaland recorded 30 percent rate in early marriages and this is attributable to religious and cultural practices that are common in the province.
Speaking during an awareness campaign in Zimunya, Mutare, ZGC chairperson Commissioner MRS Margaret Mukahanana-Sangarwe said the record had impelled the commission to visit Zimunya community and raise awareness during the 16 Days of Activism Against Gender Based Violence.
This year's Days of Activism Against Gender Based Violence. which began on November 25 and will run until December 10, will be held under the theme "Orange the World: Generation Equality Against Rape".
The ZGC chairperson cited harmful traditional and religious practices as detrimental to the health and status of women and young girls in the country.
"Indeed, it is frightening and saddening that 22 women are raped daily in Zimbabwe, one woman is abused every 75 minutes, an average of 646 women being sexually abused monthly and one in three girls is raped or sexually assaulted before they reach the age of 18. All this has sinister implications of such practices, which violate the rights to health, life, dignity and personal integrity," said Commissioner Mukahanana-Sangarwe.
She added that the persistence of deeply entrenched social attitudes and  religious beliefs was triggering early and underage marriage, particularly among the apostolic church communities.
The practice of child marriage arguably affects not only the child and her or his immediate environment, but also produces long-lasting effects at the societal level.
"Societal consequences from child marriage may stem from the fact that child brides are often ill-prepared for their role as mothers, which can harm the well-being of the next generation," she noted.
Legal expert under the ZGC Ms Delis Mazambani also counselled the communities to stand up against domestic violence, early marriages and to seek help from the police whenever such cases happen.
"We urge communities to always report domestic violence cases, and all forms of abuse to the police so that culprits are brought to law and justice to prevail as well as enabling a non-violent environment for everyone particularly young girls ," she  said.
Ms Mazambani also urged families and communities to avoid solving issues in their homes which often result in negotiations of domestic violence matters such as early child marriages, rape, aggravated assaults or indecent assault.
Village head Mr Shadreck Piki said it was painful to witness early marriages among apostolic sects.
"Child marriages among the apostolic community are very high. Girls being married before the age of 18 is putting them at greater risk of dropping out of school, domestic violence and the potential life-threatening health consequences of early pregnancy," Mr Piki said.
The village head's concerns illustrated the seriousness of the problem at hand which should be tackled head-on to save under-age girls from child marriage.
He was determined to use his influence to improve the lives of young girls in his community by ensuring that they remained in  school.
"Educational opportunities are often closed to girls before marriage, as a result of which early marriage becomes the only culturally approved pathway that allows them to present themselves to others," said the village  head.
He thanked the ZGC  for choosing Zimunya for its awareness programme on the 16 Days of Activism Against Gender Based Violence, as well as imparting knowledge to communities in ending early marriages by shunning harmful  religious and cultural practices.