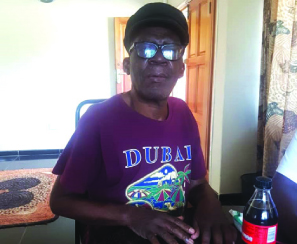 The ManicaPost
Liberty Dube
Entertainment Correspondent
OBSTACLES, or zvipingaidzo, are things that block one's way to success.
Celebrated jazz supremo, Bob Nyabinde, penned a song with the same title, in which he urges people to stop being stumbling blocks to their own progress by engaging in gossip, as well as being hateful, boastful, envious and deceptive.
ln the same song, he also articulates how people can be each other's stumbling blocks to progress at workplaces, homes and schools.
But with over 16 years of a colourful and illustrious music career where he has showed his prowess on the acoustic guitar and mastered the art of syncopated rhythms and functional harmony of jazz music, Nyabinde came face-to-face with an obstacle.
ln an exclusive interview with Weekender in Mutare last weekend, Nyabinde narrated his sad tale.
On a sunny and beautiful day, sometime in 2018, Nyabinde and his Savana Drive Band were scheduled to perform at a private fuction at Leopard Rock Hotel in Vumba after being invited by Tsitsi Mutasa.
Nyabinde and crew had a sumptuous meal at a Mutare restaurant before all hell broke loose.
"We departed for Vumba where we were scheduled to perform at that high profile show and upon reaching White Horse Inn Turn-off, I suddenly felt dizzy. I instructed the driver to stop and I called Tsitsi and told her that I could not proceed and that she should instead come and pick me up.
"She picked me up and my son, Agga. I went on stage, but towards the end of the show, the dizziness got out of hand. I told Tsitsi that I could not continue and Agga concluded the show. I had no idea what was happening. The following day I went to see my doctor and the doctor said my sugar levels were abnormally high," he said.
With his eyesight now giving him problems, Nyabinde proceeded to a Harare-based optician and was told that his diabetes had destroyed 20 percent of his vision.
"I learnt about my condition that year, 2018 to be precise. Since then my condition has been deteriorating.
"I suffered a stroke at the beginning of 2019 and I completely lost my sight. My hand and leg also got paralysed. Things have never been the same for me but I find hope in my friends, family, relatives, show promoters and Government through the Ministry of Youth, Sports, Arts and Recreation. All these people have been extremely supportive in my journey," said the artiste.
He now uses a walking stick while Bongani Chiodza assists him in his day-to-day activities.
"Periodical medical check-ups are critical. I urge fellow artistes to undergo medical check-ups every time because sometimes when you think you are doing well, something may be eating you up. What we eat and what we drink determine our wellbeing. You may be eating your way to the grave," he said.
Turning to his family, the jazz artiste said his wife succumbed to cancer in 2007; while his sons Agga and Albert are his guardian angels.
"I am jealous of Agga who has been doing exceptionally well," said Nyabinde with a chuckle.
"Albert is running a band at Harare Poly. It is encouraging to see my children living their dream. I pray to God that they remain humble and disciplined, especially in the showbiz sector. I am extremely happy with their passion," he said with great pride.
But has Nyabinde dumped the guitar for good?
"I can't leave music. Some promoters usually call me for private functions and I sometimes attend. Sometimes I won't perform, but will simply attend the event and play a cameo role. But just seeing my face makes my fans happy.
"I recently had an excellent event which was organised by prominent promoter, Josh Hozheri, where artistes such as Victor Kunonga, Mwenje Matope, Selma, Chipaz, Josh and Prudence Katomeni, among many others, performed. I felt humbled," he said.
Nyabinde revealed that his two most memorable shows were the Miss World Tourism beauty pageant as well as his first ever show at Jazz 105 (now Eastpoint) in Harare.
"We were not popular at all, but were invited to perform at the pageant. This came as a surprise as we never expected to be part of a grand event of that magnitude.
"And at Jazz 105, we defied all odds. During that night we had to show revellers what we were made of after we performed alongside more prominent and experienced groups such as Jabavu," he said.
Nyabinde now spends most of his time repairing guitars.
Young Nyabinde acquired his primary education at Zamba in the sprawling suburb of Sakubva before proceeding to secondary school in the same suburb.
He obtained his teaching diploma at Mutare Teachers' College.
He became a headmaster at several schools before resigning and venturing into music full time in 2007.
Part of his rich discography include 'Pane Nyaya', 'Chabuda Hapana', 'Terera', 'Zvinoita Hope', 'Wandikona', 'Samanyika', 'Kusiya Vana Vega', 'Ndiratidze Mumwe Chete' and 'Kunge Kwaye'.
A Harare-based organisation, Legacy Diaries, run by veteran journalist, Munyaradzi Huni, is now working on a documentary to chronicle Nyabinde's life.
"This organisation's main purpose is to write biographies and memoirs of the country's heroes. There is no doubt that Nyabinde is a super star, especially in the jazz genre, so we saw it fit to write this biography.," said Huni.
"He is our legend and I think we need to preserve his history. ln compiling this biography, we will work with corporates to launch the book in July. We will launch the book at a jazz festival that is being organised by Josh Hozheri," said Huni.
One of the country's most prominent show promoters and businessmen, Hozheri, said a winter jazz festival will honour the legendary jazz crooner.
"I worked with Bob for a number of years. He became part of our winter jazz festival for more than 11 years. We have decided to have this festival and we will give him the naming rights.
"Most of our legends have departed and we don't have anything to pass on the next generation. l believe we can only become better people if we leave something for those coming up because we also inherited from those who were there before us.
"We are re-launching the winter jazz festival to tell the world that we must do things differently. Most people want to come on board when someone dies. I remember when Oliver Mtukudzi died, a lot of people wanted to be part of his send-off.
"We should celebrate each other when we are still alive. We need to celebrate Nyabinde's music," said Hozheri.