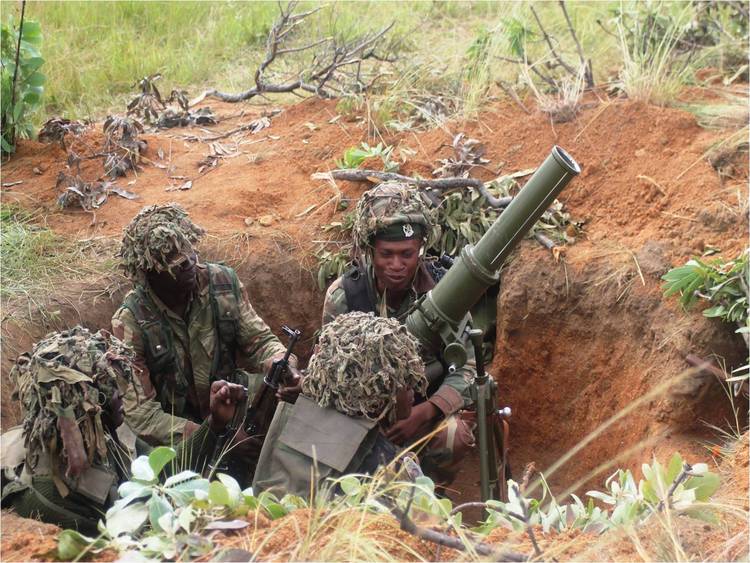 The ManicaPost
Captain Moreblessings Mugumbate Post Correspondent
The envy of the Zimbabwe Defence Forces (ZDF) at the international scene is attributed to its battle focus training which is synonymous with the organisation, the Chief of Staff General Staff Major General (Maj-Gen) David Sigauke has said.
Major-General Sigauke made these remarks when he officiated at the joint graduation ceremony for Company Group Commanders' Course (CGCC) and Platoon Commanders' Course (PCC) at All Arms Battle School-Rekai Tangwena Barracks in Nyanga recently.
He said ZDF's successful participation in the various operational exploits had aptly demonstrated the significance of offering first rate training to its members.
"Our operational history and track record in previous campaigns like the Mozambican Campaign, Operation Sovereignty Legitimacy and other peace support operations in Angola and Somalia bear testimony to the importance of battle focused training, which is synonymous with our organisation. Such operational exploits which are premised on rigorous training and continuous human development have made the ZDF an envy of many within and without our borders," Maj-Gen Sigauke said.
He added that excelling in wartime can only be achieved through the intensive and purposeful training that officers get at the school.
"It is important to reiterate that wartime performances are a direct measure of the input and effort that we devote during training. It is through training of this nature that we can be able to perfect our skills, build team spirit, fight successfully and shed less blood in the battlefield hence the School's motto 'Train Hard, Fight Easy'," he said.
The Chief of Staff General Staff hailed the Rekai Tangwena Barracks for including a Civil Military package in its course syllabi adding that it helps in making invaluable contribution towards inculcation of nationalistic and patriotic virtues in the students.
"The Civil Military Relations package which culminated into an external study tour to Chimoio in Mozambique was deliberately included in your respective courses' syllabi as a way of ensuring that student officers have a sound appreciation and understanding of the country's history, founding principles, national values, liberation ethos and subsequently inculcate a sense of patriotism into individuals," he explained.
A cumulative total of seventy-one (71) student officers drawn from both Zimbabwe National Army and Airforce of Zimbabwe graduated with certificates. Of the 71 graduands, 10 were females. Maj-Gen Sigauke highlighted that the inclusion of female students on such mainstream courses resonated well with the ZDF policy which seeks to afford equal opportunities for its members regardless of gender. He commended the female officers for performing equally well and matching their male counterparts in every respect.
The two courses offered at the school are meant to equip and improve ZDF officers' level of leadership, organisational abilities and military acumen so as to enable them to measure up to the dictates of military operations in the 21st century and beyond. Captain Obert Matare of Headquarters 5 Infantry Brigade emerged best student for the CGCC while Lieutenant Blessed Sesa of 22 Infantry Battalion was the best student for the PCC.