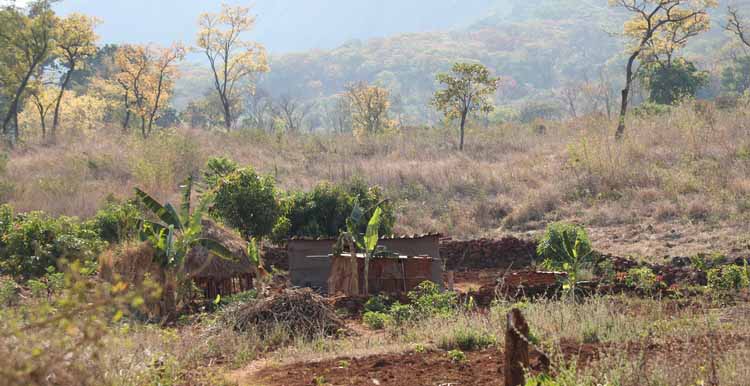 The ManicaPost
Ray Bande Senior Reporter
WHERE we used to have a cool easterly breeze filtering through the vast tracts of flora and fauna in the once densely vegetated basin bordering Mozambique, we now have a nauseating, energy-sapping, warm and unpleasant waft.And where we used to have small tributaries flowing peacefully from all directions into Nyamakari River, we now have clogged water sources, sand-filled watercourses, all choked by unrestrained siltation because of illegal upstream cultivation. Also where we used to have a serene ambience of green shrubs and all sorts of foliage, we now have a sickening sight of pole and dagga huts perched on the slopes of an undulating terrain.
Welcome to Burma Valley!
In fact, the large tracts of cleared land, with a chain of small banana and maize fields, are now a common sight in the mountainous topography, bearing testimony to the brutal destruction vegetation that happened over the years in the previously picturesque area.
Burma Valley is a low-lying area between Zimbabwe, located next to the Bvumba hills.
Passing on the main tarred road from Mutare towards the east, the road leads through the mountains, reaching communal farmlands of Chigodora and then passes down into Burma Valley.
Traditional leaders are also parcelling out the land to locals and some are reportedly taking bribes from the prospective land owners.
In 2006 and 2007, armed police officers burnt down the squatter homes, but within days, the illegal settlers were back, constructing even bigger structures.
Sadly, even the A1 and A2 farmers in the valley have been fingered as causing siltation and deforestation.
In a not-so-distant past, Burma Valley was once well known for being rainy and fertile soils which explains why the area was used by European colonists as tobacco and fruit growing area.
And in a not-so-distant future, Burma Valley will lose the little that is left of the aura of an equatorial rain forest that it used to be and more importantly it will hardly be able to produce that export quality banana fruit from Matanuska Farm to Crake Farm.
Siltation in water bodies — dams, weirs and rivers — around Burma Valley, in itself a ticking time bomb that has been ignored in the recent past, is caused by soil erosion and is now evident in all the corners of this gift of nature to mankind.
Manyera Dam has been reduced to half its water carrying capacity, so is Musapa Dam. The same goes for Nahuni Dam and Sunny Valley Mhondemuponde Dam. Weirs at Saburi, Mazonwe and Robandi are now white elephants owing to siltation.
Such is the sorry state of affairs in Burma Valley.
Environmental Management Agency provincial manager Mr Kingston Chitotombe concedes that the situation in Burma Valley is dire.
"The state of affairs in Burma Valley is a time bomb in itself. The bananas that we are getting and exporting from that area might soon be a thing of the past because of acute shortage of water.
"The water bodies in Burma Valley are drying up mainly because of soil erosion that has led to siltation. We have allowed this to happen over the years and it is sad that we are soon going to witness the process of desertification unfolding in our eyes," said Mr Chitotombe.
He added that there is need for urgent attention on the events unfolding in Burma Valley. "We need no rocket scientist to inform us that there is need for urgent action in Burma Valley. There is need for us to come together and ensure that the environment is protected. There is need to stop illegal cultivation of catchment areas in Burma Valley," he said.
Chief Zimunya confirmed that migratory farmers cultivating in the slopes of the mountain range of Burma Valley as well as practising stream bank cultivation were behind untold damage to water bodies.
"We have people coming from different areas that are dry into Burma Valley in search of arable land. Given the relatively better rains and soils in Burma Valley people are coming from different villages to carry out farming activities, but they end up doing so in places that were not moment for farming.
"We have people practising poor farming methods in areas such as Kaswa upland, Burma Park and Chikubvu. We really need agricultural extension officers to be deployed and teach proper farming methods. Some are ploughing down the slopes while others plough along the river banks, which is not acceptable," he said.
Chief Zimunya said police should move in to restore sanity and preserve the Burma Valley environment.
"We have tried on a number of occasions to effect arrests as local traditional leaders with limited success. We have even summoned headman to appear before our court for facilitating illegal occupancy or facilitating activities that damage the environment, which again, has done little to deter these detrimental activities.
"We believe if the police is roped in it could go a long way in solving our problem and preserve the environment for the benefit of future generations," said Chief Zimunya. Mutare Rural District Council Ward Seven councillor Itai Katsaruware, a champion of conservation efforts in the Burma Valley area, said illegal settlements were the biggest challenge facing the area.
"We are indeed sitting on a time bomb. Most of our dams have been reduced to half their water carrying capacity because of siltation. Illegal settlers being helped by dubious traditional leaders have been the main causative agent of this menace to our environment.
"It is high time we get law enforcement agents to help in this noble fight. If we have some perpetrators of crimes against the environment apprehended and going to court or even jail, the better.
''We surely cannot ignore this anymore if we are to retain or even boost the business value we get from Burma Valley," he said.
For the folks in Burma Valley, the refreshing development in the history of their area is that it was declared landmine impact-free after two years of de-mining work following the death of over 1 500 people and 120 000 livestock since in 1980.
However, it now seems to be an everlasting curse following the huge influx of illegal settlers whose poor farming activities are causing devastating effects on the environment and resultantly, climate.