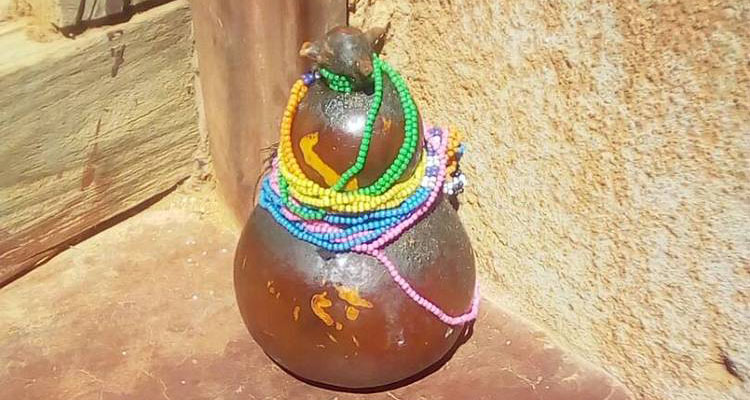 The ManicaPost
Tendai Gukutikwa
Weekender Reporter
PANDEMONIUM reigned supreme at a self-styled white garment prophet's homestead in Chigodora recently after an alleged goblin was found in his bedroom.
The prophet, Phillemon Buwerimwe, stands accused of casting spells on his siblings, Phillipa, Maxwell and Tapuwa Buwerimwe, thereby forcing the family to seek the services of a group of prophets.
Phillemon is also being accused of causing the death of at least three of his nephews and nieces as well as mysterious illnesses among his siblings.
Phillemon is a well-known prophet from Vadzidzi VaJesu Sect in Chigodora.
He, however, was left with egg on his face when a group of prophets recovered an alleged goblin from a bag in his bedroom.
The matter was revealed when they appeared before Headman Chigodora's court last week on Saturday.
Tapuwa begged his brother to confess.
"When the prophets went to Phillemon's house, they asked for Phillemon's secret bag. The bag was brought out by Phillemon's wife, who knew exactly where it was.
"A prophet sprinkled some salt on the bag. When the prophet opened the bag, we were all shocked to see a breathing goblin with a horn. The prophet stabbed it with his rod and it started struggling to breathe.
"Phillemon appeared confused and asked the origins of the goblin. This is despite the fact that we had all witnessed what had happened. He was just trying to hoodwink us into believing that someone might have planted the creature in his house. We all remained quite.
"Our brother is a wolf in sheep's clothing. We have been struggling all these years, yet he is the one behind our suffering. Family members were dying mysteriously, yet he had a hand in these deaths. He is wicked," said Tapuwa.
He also came out guns blazing against other family members, demanding to know why they were trying to protect Phillemon before Headman Chigodora instead of telling the truth on what happened with the group of prophets.
"Why are you trying to conceal everything? We were all there when the goblin was unearthed. We are also the same people who are dying because of his wizardry. Why are you protecting him? He has been using us for his rituals and healing powers. We deserve to hear his side of the story since he has been quiet since the discovery of the goblin," he said.
Tapuwa allegedly lost a child under mysterious circumstances.
Phillemon's other brother, Phillip, also demanded to know the truth.
"Our sisters are not married and the few that are married have their marriages on the rocks. This is because Phillemon is working day and night to destroy them. The male family members are worse off as we have nothing to show for our hard work. We have consulted different faith healers and they all fingered Phillimon as the source of our misfortunes. We thought they were framing him until the discovery of the goblin," he said.
Phillemon, however, accused his sister, Phillipa, of planting the goblin in his house.
"Phillipa believes I killed her child, so she has been planting evidence in my house in the form of goblins. This is her goblin, not mine. These are all lies. Phillipa is the one consulting traditional healers acquiring goblins. She has three goblins in her possession which she wanted to dump at my homestead. She failed to do so after a prophet cleansed my home. Why would I bewitch my siblings? This is insane.
"I am a true prophet of God with the Vadzidzi Apostolic Sect. My spiritual powers are from God. I passed the test at my church, so I do not understand why my siblings are turning against me," he argued.
The matter was transferred to Acting Chief Zimunya's court where the family was ordered to consult traditional healers.