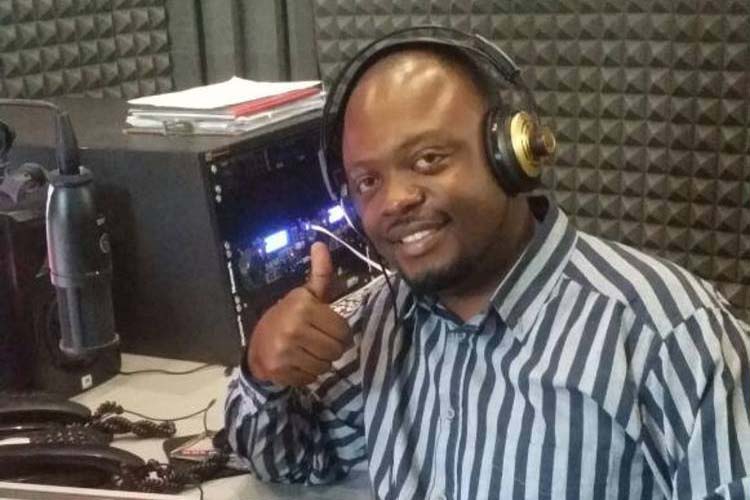 The ManicaPost
Morris Mtisi
One of the best voices on Diamond FM — slightly baritone husky but lavishly amorous, very masculine and radio smooth; DJ Tin-Ashe doesn't struggle with his English verbs, tenses or adjectives. He is a bundle of humour especially when twinning up with another top-shelf celebrity-Dela-Naye-BaTaps of the Karanganda fame, during the popular early morning Wake Up programme. People love this enigmatic pair on radio; mysterious, unknowable, inscrutable, unfathomable!
Ba-Taps has been on Know Them Better before. Today it is Tinashe Zilole(TZ). Love him!
MM: Finally here we are Tin-Ashe. Welcome to my space.
TZ: Great to be here MM, thank you!
MM: Tinashe Zilole doesn't sound very much Shona . . . not that it must or has to, but any mystery associated with the Zilole part?
TZ: My Granddad was born in Zim but he told us he is Zulu by descent and his home of origin is South Africa. Zilole in Zulu means 'accept-receive-gamuchirai').
MM: Where were you born . . . a bit of your early life . . . Crèche-Primary school that far back?
TZ: I was born in Mutare…
MM: How many years back is that?
TZ: (Laughs) Over 30 years ago at Mutare General Hospital. My dad worked for the Railways so when he moved to the capital city, we all did and I went to Creche /ECD in Harare. Then Grade 1 at Alfreid Beit and Blackstone before coming back to Mutare Chancellor Primary School to be specific, to do Grade 4, 5 and 6. I went to Hartzel High School to do my Junior Secondary and High School. There was one Mai Mutasa as the head those days.
MM: Any particular friends that nostalgically come to mind?
TZ: Of course-the likes of Langton Chimukuche. He is a medical nurse or doctor now. Tonderai Chikwengu…I know he is listening. Denford Takudzwa Machingarufu-he is in Australia now. Comfort Chingarande. He is from Mutare but currently in the UK. He live-streams a lot and listens to DiamondFM.
MM: Your radio name Tinashe?? In my time I remember The Knight Rider, The Master Blaster-Webster Shamu, John Matinde-Yours Truly; today we have The SkyWalker- the only black man who dreams in English . . . many more interesting radio names. What is your radio name?
TZ: Not very far from my real one. Lee Kay gave me the name Tin-Ashe.
MM: Makes it sound very British hey . . . anglicised from the indigenous too-African Tinashe? (We both laugh heartily) What is the favourite radio show you present on radio?
TZ: Monday to Saturday from 6 to 8 am-The Wake Up Call!
MM: Indeed your signature radio programme! You make lots of noise for listeners . . . late-risers, that early. "Wake up! It's time to . . .
TZ: . . . to define our destiny . . . time to face the day.
MM: Absolutely! And how do you define people's destinies Tin-Ashe?
TZ: Musically of course. We play good music. You know music has a direct and soothing bearing on people's lives. We spice that with jokes . . . humorous stories, anecdotes, that people relate to and enjoy . . . all meant to say, 'come on let's have fun; its early morning! And joy and laughter are the best medicine.' We love it!
MM: You say 'we . . . we . . . we,' who is part of that equation?
TZ: Dela-Naier of course…BaTaps.
MM: In my interview with Ba-Taps a while back: "AMtisi umweni mukadzi nemukadzi wake tiri paRoad Show . ..  vakandirumbirira AMtisi . . .kude kuona Ba-Taps. Wakamborumbirirwawo ere iwewe Tin Ashe zvakaitwa Ba Taps?
TZ: Kurumba shuwa . . . ndimwi ere BaTaps? Inini andisati hangu ndamborumbirirwa.
MM: You two guys are fabulous. You take all the radio thunder and without you, especially in the mornings . . . there's no radio. You are enigmatic, inscrutable and unknowable . . . out of sight.
Brilliant charm and touch with the public . . . even women Tin Ashe, I have heard different shapes and sizes of women talk about you. I hope that does not unsettle . . .
TZ: . . . That's a fact.
MM: There we are! You see! (we laugh and love it) Who were your radio heroes during your teen- age radio listening?
TZ: Kudzi Marudza, Mr Cool; Witness Matema . . . Peter Jones! I admired them. They were good. I envied them.
MM: Did you ever dream you'd be a radio presenter in your lifetime?
TZ: Not really, but when it came I was not surprised. I grew up imitating . . . acting DJ . . . playing the volume knob of radio up and down . . . up and down and shouting I'm DJ so-and so bla-bla-bla . . . on radio chakutichakuti . . . you know what it is like with small naughty boys.
MM: Now you are here on Diamond FM. Whom do you want to live up to . . . Perhaps even sound like?
TZ: I admired and envied the DJ's I mentioned. They were big because they were original. I would like to sound like Tin-Ashe, MM . . . to create my own brand.
MM: You wake up every morning Tinashe, and make way to DiamondFM Radio. What do you want your 'likers' to enjoy and learn?
TZ: I have a strong stop-at-nothing philosophy. Work hard! Do it! Stop at nothing. The sky is not even the limit. Identify your gift or talent. Follow it and stop at nothing!
MM: Soccer? Can we overlap to this area?
TZ: Why not? I love the Warriors though they are often disappointing.
MM: Isn't that jingoism Tin Ashe? Everything Zimbo is lekker! We are the best no matter how much we know we are not?
TZ: I'm patriotic MM.
MM: There you go! Exactly what I mean . . . jingoism is mad patriotism! Out-of-control love for one's country! Jingoists can convert even nothing to something! Be careful. Don't misunderstand me.
TZ: I love Chelsea too on the international scene. I do have a scarf and T-shirt.
MM:  Enough about the world's most beautiful game. Auditions leading to the way to Diamond FM …in one word! How did they go?
TZ: Nerve wrecking! Hundreds of contenders auditioned! But I knew I would be one of the successful ones. I knew. I knew.
MM: After the bush or back-yard broadcasting experience of your youthful days? Why not? (We love it and laugh):  To conclude this scintillating programme, I want to wish you Tin-Ashe the very best. Keep the Diamond FM flag up. You are doing a splendid job. And may the good Lord bless you in the pursuit of a job you love so much.
TZ: MM, thanks for having me on your show.