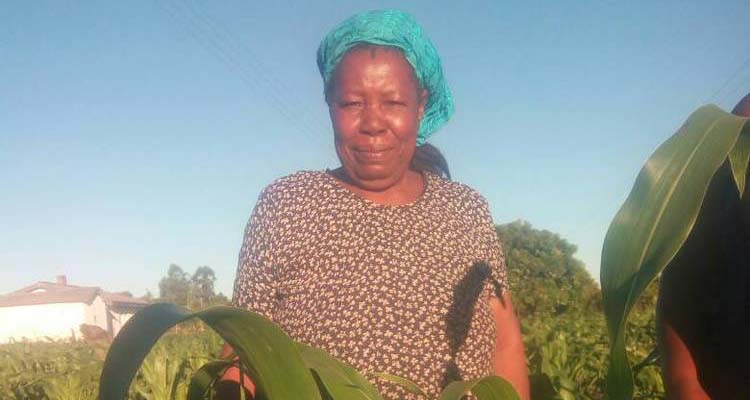 The ManicaPost
Freedom Mutanda and Sifelani Tonje Post Correspondents
ZIMBABWE'S liberation struggle had many contributors. Just like what the First World War did to the womenfolk, the Second Chimurenga liberated women in many ways. Gone were the days when females were regarded as cast-offs in a man's world.
Why was that the case? Women participated fully in all aspects as chimbwidos and freedom fighters and in such a scenario, independence just rubberstamped women emancipation.
The Manica Post Correspondents, Freedom Mutanda and Sifelani Tonje, interviewed Cde Virginia Masaraure who saw freedom fighters in action at Sunside Secondary School in Chimanimani and went back to Mahusekwa where her father, a retired BSAP officer, defiantly supported the comrades notwithstanding a hostile environment.
Her eyes tell a story of torture. She laboured for the nationalistic cause. We met her at Bumburwi, near Waddilove Mission. The name of the place has historical connotations. It means a pile and was named after a fierce battle between the Seke and Nenguwo clans which left a pile of dead bodies.
The name has stuck since then.
Cde Masaraure moved from Mahusekwa to Sunside, Mutambara in pursuit of education. The dream was shuttered after the settle regime closed the school.
Below are excerpts of an interview The Manica Post had with Cde Masaraure.
MP: Comrade, briefly tell us about your background.
VM: I was born in 1954 and have several siblings. My father was a member of the British South Africa Police. He worked until he retired from active service in the late sixties. At Grade Seven I failed English and did not get automatic acceptance at the mission schools. Therefore, I had to attend an interview at Mutambara in 1969 for my Form One which I passed.
MP: When did you become active in politics?
SM: At school, Sunside Secondary School to be precise. At Form Two we wrote exams and these were used to either retain us at Mutambara, make us go elsewhere or become loafers as we could not go to colleges or nursing training.
I was transferred to the nearby secondary school for girls, Sunside, where less gifted students would do their Form Two education. It was to be a roller coaster ride as it was a time when the liberation struggle became more and more intense in Manicaland.
MP: Walk us through your political awakening comrade.
SM: It was in April 1972, at about 2am when I heard gruff and loud voices calling everyone to the football ground. About 350 girls went there ignorantly. Some young men told us they had come to liberate the country. One of them was Tongai Nyika. They stomped and danced revolutionary songs and many of us were awed.
They talked about the national grievances and how a black led government would solve those problems. There was a difference in the way the two armed groups went about their business; regime soldiers commanded us while the guerrillas persuaded us. The comrades invited us to go with them for training and a huge number agreed to be part of the history making group.
MP: Why didn't you go?
VM: I felt I was still very young to endure the rigours of military training and the subsequent battle fight. All the comrades and those who had joined vanished into the thick bush around Mutambara, on their way to Mozambique. Those of us who stayed behind were in for a high jump. When the sun rose, we heard the humming of army vehicles as they entered the parking area. The principal Mrs Foste, was not present.
Mrs Lydia Chimonyo, our matron, alongside Mrs Dube were tortured, beaten with clenched fists and booted feet. Their crime was of feeding the comrades. We witnessed the torture from a nearby garden. Tears rolled down our cheeks. Soldiers rounded us up and ordered us to go home for good. My journey as a secondary school student had come to an abrupt end.
MP: What did you do now and did you come across comrades again?
VM: I went back home and stayed with my parents for a while before I got married. In our custom, when one gets pregnant, she has to go back to her parents for masungiro. I came face to face with the Rhodesian regime's callousness in August 1975, when guerrillas burnt down a council beer hall at Chimbwanda. The following morning, soldiers swarmed the African Purchase Area like bees, and attacked anyone they suspected to be a gandanga.
They took me with my sisters, accusing us ob being chimbwidos.
MP: Why were targeted specifically?
VM:  Our homestead was a base for the comrades. Chishaya, a spy, once came to our house and cautioned my father saying "muri munhu wehurumende, chandaona ndaona. (You are a former public servant. Beware because I cannot fail to report what I have seen)".
My father retorted, "andingaregedzi vana vangu vachifa nenzara. I can't allow my boys to die of hunger when I am there)". That set the stage for the eventful raid. My parents were assaulted like robbers. Shaya, a black soldier, assaulted my father on the mouth using a gun butt and he bled profusely.
He almost died.
MP: You said the comrades ambushed the soldiers after they had caused mayhem at your homestead. How did you make contact?
VM: AS the soldiers left our place, guerrillas emerged. They were monitoring the soldiers' movements. They were watching from a distance as our homestead and surrounding areas were attacked. At 2pm, a staccato burst of gunfire was heard near Mamvura River.
There was a harsh exchange of gunfire for more than three hours. Some of the guerrillas included Hitler, Citroen and Diva, others. They were furious because our neighbour had sold us out and were on a revenge mission. After the gunshots had subsidised, I saw horses without riders sprinting past our house.
We knew the soldiers had died in the gun contest. My father went to check out. He came back with grim news of wounded bodies strewn over the area, and the majority of the cadavers were soldiers. An hour or so later, a chopper and an army vehicle came to collect the bodies.
Not surprisingly, guerrillas sent word that they would come and convene a pungwe at Chimbwa that very night.
MP: Where were you at Independence and what are your feeling towards the new dispensation?
VM: I was in Mahusekwa. Today, I am a farmer and I am excited about the beneficial rains. Independence is an inalienable right. Ours was obtained through sweat, tears, toil and blood. All of us must cherish our hard won independence. As for the new dispensation, I believe that now is the time to consolidate our independence through sustainable economic reforms.
We will emerge from the economic downturn stronger and wiser.
MP: Thank you comrade for your time.
VM: You are welcome.