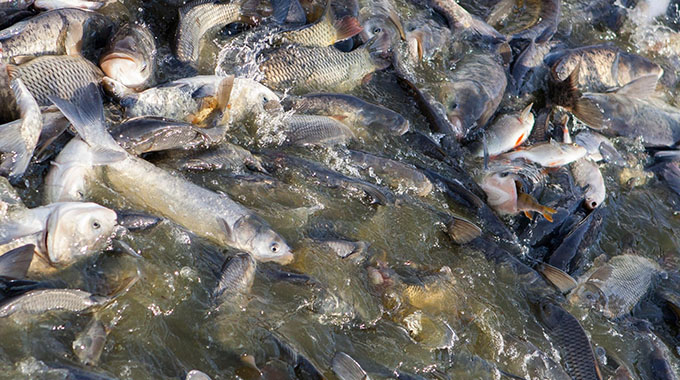 The ManicaPost
Lovemore Kadzura Rusape Correspondent
SMALL-SCALE farmers have been challenged to venture in the lucrative fish farming business and capitalise on the huge foreign demand to generate the scarce foreign currency.
Very few farmers have embraced fish farming despite its quick and rich spin-offs.
The local fish has space for every new entrant as it is currently struggling to satisfy both internal and foreign demand.
Zimbabwe requires about 66 000 tonnes of fish yet it is only producing 33 000t with the remainder being serviced through imports. Zimbabwe Fish Producers Association  (ZFPA) official and fish breeder Mr Frank Kamangeni said Zimbabwe has abundant water bodies which small-scale farmers can utilise and contribute towards sustainable livelihoods.
Mr Kamangeni who has established fish ponds across Rusape River that supply fingerlings to farmers believes aquaculture has potential to transform livelihoods and contribute towards the economic wellbeing of communities.
He said fish farming was cheap and can be undertaken by even resource poor smallholder farmers.
"A lot of people want to venture into fish farming, but are failing to get the fingerlings and practical examples on how it can be done. This is the gap we have come to fill because there is high demand for fingerlings. We also assist farmers to set up proper ponds to breed the fish.
"Fish has a huge market in Zimbabwe and beyond so people must seize the opportunity and earn themselves good money. There is huge potential of aquaculture in the country.
"A farmer only requires a pond and feeds to kick start fish farming. Feeds are in the form of locally available protein such us chicken and pig droppings, soya and sugar beans. It is not true that feeds from companies are the only ones that are recommended," said Mr Kamangeni.
He said a number of villagers, farmers, schools and churches should embrace fish farming.
He warned prospective farmers against unscrupulous elements moving around purporting to be offering lessons on fish farming yet they had not been accredited to do that.
He said the bogus elements had no practical experience in fish farming.