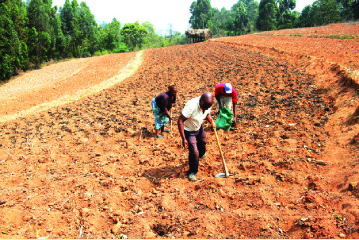 The ManicaPost
Samuel Kadungure
Senior Reporter
DISTRIBUTION of inputs under the Pfumvudza programme has started in Manicaland, with 3 400 small-holder farmers having already taken delivery of full packages of their allocations in a template that will be used to distribute inputs throughout the province.
The scheme adopts conservation agriculture based on the principles of minimum soil disturbance, potholing plots rather than ploughing, and usage of mulch to conserve moisture.
Farmers are also encouraged to do all operations at the right time and adopt good agronomic practices.
Manicaland's distribution model is a response to previous haphazard inputs distribution challenges in which a beneficiary would either receive the inputs in drips and drabs or fail to get the whole package, thereby compromising chances of increasing crop yields.
The 3 400 farmers who received their full packages are from Chisuma in Chipinge where President Mnangagwa launched the Presidential Goat Scheme recently.
The farmers received seed, fertiliser and chemicals.
Another 5 000 tonnes of fertiliser has been received at various GMB depots in Manicaland.
Manicaland has 461 573 farmers registered under the programme.
Their cumulative package includes 24 150 metric tonnes of Compound D and top dressing fertiliser, 2 469mt of maize seed, 314mt of traditional grains and 483 000 combo packs of vegetable seed.
Should all the 461 573 farmers plant accordingly, this will translate to a combined 738 516 hectares for maize, traditional grains, legumes and cotton.
Allocation of inputs this season is based on a provincial database complied online to ensure that the inputs subsidy scheme is not prone to inefficiency, bias and corruption.
On Tuesday, Manicaland Provincial Agriculture Advisory and Rural Development Services (AARDS) Director, Mrs Phillipa Rwambiwa said the valuable experience of previous seasons has proven that agriculture can also benefit from modern science and technology, including the use of quality certified seeds that have passed all the necessary quality controls, moisture conservation and zoning.
"We have 3 442 farmers that have already received their full package of inputs and we will be using this template throughout Manicaland. Once a farmer has been registered into our database, they will be issued with their total package of inputs for this season.
"We want every farmer in Manicaland to get the whole package of inputs – that is the seed, fertiliser, forage legumes if the farmer is into cattle production, chemicals and lime, all at once.
"We have a target to train 465 000 farmers and as of last Friday, 328 000 farmers had been trained. The training is on-going and by the end of this week, we should have surpassed 85 percent of our target. By the end of September we should be done with the training," she said.
Mrs Rwambiwa said they were also conducting farmer field schools to establish Pfumvudza plots for village heads and headmen for the Zunde raMambo programme.
The programme targets 290 chiefs, 500 headman and 36 000 village heads, and will target 9 587ha of maize and 5 478ha of sorghum.
The scheme will support 1ha for the chiefs, 0,75ha for headman and 0,5ha each for village heads.
Additionally, each chief will get a one tonne metal silo for grain storage.
The programme will also target 500 000 urban farmers who will get maize seed and fertiliser.
"So far, we have established 1 500 farmer field schools in Manicaland and the process is ongoing. Our registration is being done online as we compile a database for those with ready plots. This forms the basis of inputs allocation," said Mrs Rwambiwa.
She added that farmers should be ready to plant when their respective areas receive rains that can sustain germination.
During the 2022/23 agriculture season, apart from crop production, Government will also support small-holder farmers in livestock production and fisheries.
Mrs Rwambiwa said Manicaland will ride on positive projections by weather experts that the country is expected to receive normal to above-normal rainfall between October and March 2023.
In a statement released at the end of the annual Southern Africa Climate Outlook Forum (SARCOF 26) that was hosted virtually by the SADC Climate Services Centre (CSC), experts forecast that the bulk of the SADC region, including Zimbabwe, is likely to receive normal to above-normal rainfall through the farming season.
"We are giving inputs according to natural regions, and if it is Natural Region Three, Four and Five, we will be giving traditional grains that have a comparative advantage against climatic shocks," she said.
Under the Pfumvudza programme, farmers can prepare up to five plots with three of these reserved for maize.
One plot will cover the household's needs while the other two will be for commercial purposes.
One plot will be put under soyabeans, while another will be put under sugarbeans, groundnuts or cowpeas.
In low rainfall agro-ecological regions, the five plots will see the three plots going under cereals (maize/sorghum or pearl millet).
Another plot will be put under sunflower or castor bean, while the last one will be put under cowpeas or groundnuts for the household's food security as well as supporting cereal and legume rotations.
Pfumvudza seeks to ensure that the small farms are run as proper businesses, with the farmers retaining what they need for on-farm consumption while selling the rest of the harvest.
Training offered under the programme covers business areas such as record keeping and conservation agriculture.