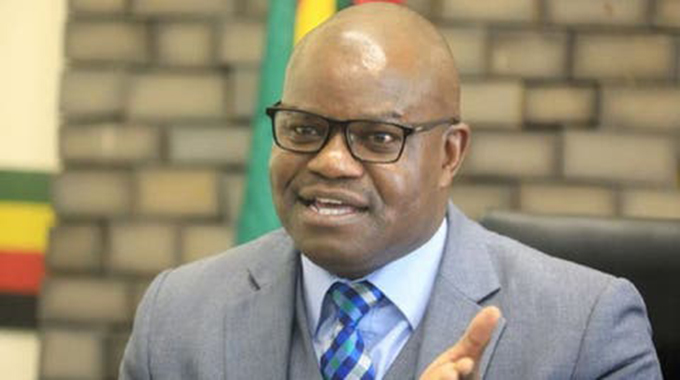 The ManicaPost
News Editor
THE Permanent Secretary in the Ministry of Information, Publicity and Broadcasting Services, Mr Nick Mangwana, has called for the ownership of the National Development Strategy economic blueprint launched by President Mnangagwa on Monday.
Speaking to Zimpapers' commercial radio station, Diamond FM on Tuesday, Mr Mangwana who was in Mutare for the indication of Zimbabwe Media Commission commissioners said, "The National Development Strategy (NDS) is ours as Zimbabweans, it does not belong to the Government. This programme was drafted with consultation from all stakeholders, be it the private sector, civic society and so no. Let us all take ownership of the strategy and wish it well. Let us support it because it is ours. When prosperity comes by 2030, it will be our prosperity and we want everyone on board."
The NDS will be anchored on devolution and decentralisation as well as prudent use of public resources.
The strategy is divided into two segments — with NDS1 running from 2021 to 2025, while NDS2 will run from 2026 to 2030.
NDS1 is the second step of the Second Republic's drive to attain Vision 2030 of achieving a upper middle income economy.
The strategy succeeds the Transitional Stabilisation Programme (TSP) which ran from October 2018 to December 2020.
Mr Mangwana said TSP was a game changer as it brought about stability to the economy despite challenges like Cyclone Idai, droughts and the Covid-19 pandemic.
"For us to attain Vision 2030, Government put in place a roadmap. The roadmap was divided into three segments, the first one being the TSP that ran from October 2018 to December 2020. The second 10 years of the roadmap was divided into two segments, each running for five years.
"The first segment is NDS1 running from 2021 to 2025. TSP was put in place to stabilise things in the country. It was not proper to come up with a roadmap in an unstable environment. We now have our own local and stable currency. We now have fiscal discipline and people will be getting their bonuses this November and next month. Every civil servant will get their dues even though some are complaining of low incomes. Money will never be enough to anyone. We now have a strong foundation to build forward. By 2030 we will have hit the target of being an upper middle income economy status," said Mr Mangwana.
He added: "TSP performed extremely well compared to other programmes like ESAP and ZimAsset because it achieved its intended objectives. However, while we celebrate its achievements, it was saddled by its fair share of challenges like Cyclone Idai, droughts and Covid-19, which resulted in money being diverted to address these challenges.
"At times, Government would use $800 million to import grain, but we managed to overcome these challenges. When Covid-19 struck, we ensured total lockdown and this affected the economy but we soldiered on.
"I don't think we will encounter the three major challenges we had to navigate past in a short space of time again.
"If we receive good rains, coupled with the infrastructural development programmes the Government is embarking on, nothing will stop the NDS from achieving its objectives," said Mr Mangwana.
He said devolution is one of the major pillars anchoring the country's economic blueprint.
"Devolution is one of the main pillars anchoring our economic blueprint to achieve the 2030 objectives. Power is being decentralised to the communities.
"Those who fail to deliver will be held accountable as all projects are community based.
"Devolution is not about money, but the empowering communities to set their own priorities and follow them through. We have all heard what the President said about implementation and monitoring of projects from Central Government to the lowest level.
"We have mechanisms in place to monitor these projects. The construction of a classroom block or sinking of a borehole will be monitored as these projects belong to the communities. As the major beneficiaries, the community also has a duty to monitor these projects," said Mr Mangwana.