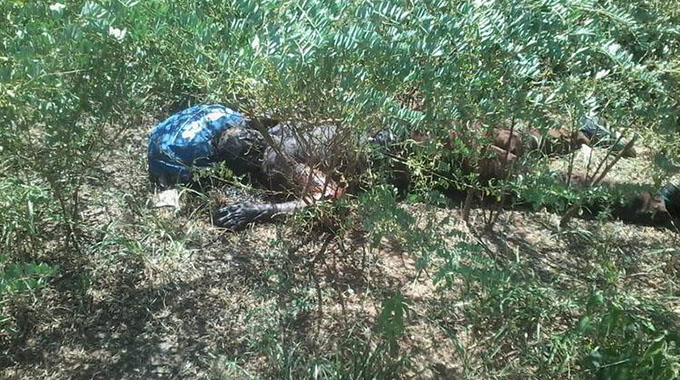 The ManicaPost
Freedom Mutanda and Luthando Mapepa Post Correspondents
VILLAGERS in Chipinge's Manesa area were left shaken last Wednesday following the discovery of the body of a man believed to have been murdered for ritual purposes.
The corpse, which was in an advanced state of decomposition, and had some body parts missing, was discovered by herdsmen near Chiororo Tavern.
Chipinge criminal investigations department spokesman, Detective Assistant Inspector Daniel Chimhini confirmed the murder.
He said investigations were in progress.
"The deceased, Trymore Muchini, was last seen in November 2017 at Tanganda Halt bound for South Africa by his brother, Artwell Muchini (44) of Manesa Village in Chief Mutema's area. Sometime in February 2018, the now deceased phoned Artwell using a South African line indicating that he was well.
"On March 14 at about 12pm, Munashe Sithole (13) of the same village was herding cattle when he came across a dead body.
"He rushed home and alerted other villagers who then made a report at Mutema Police Post under RRB 344096,'' he said.
On March 16 detectives attended the scene. A set of tyre marks were observed about ten metres from the deceased body a sign which indicated that the was dumped at the scene.
Detective Assistant Inspector Chimhini said no arrests had been made as yet.
He appealed to members of the public to provide information which will help them in bringing to book the culprits.
Villagers have since taken precautionary measures to protect their families with some even escorting their children to school as cases of ritual murder rise.