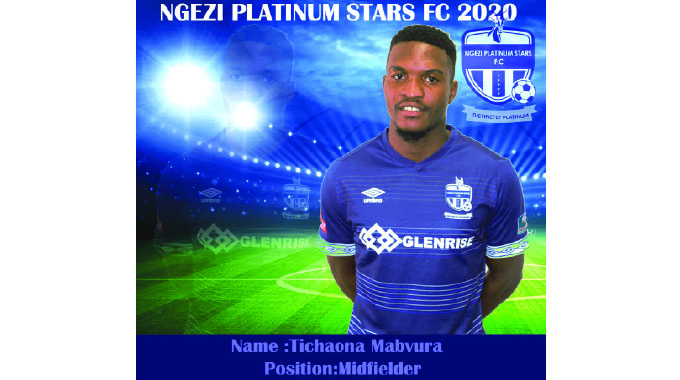 The ManicaPost
Ray Bande
Senior Reporter
SIMILARITIES between Partson Jaure and Ticha Mabvura do not start and end in having donned the famous blue and white Dynamos stripe in their respective football playing careers.
Neither is it limited to both players having turned out for Ngezi Platinum.
While the Covid-19 lockdown has brought despair to many, it has given the Sakubva-born Ngezi Platinum star Mabvura some time to recuperate from a nagging knee injury.
The same applies to his DeMbare counterpart, Jaure, who was involved in a horrific accident on March 22 three days after he was unveiled as the new Dynamos captain.
He sustained serious head injuries in the accident.
The long break has given both players ample time to recover from the injuries that could have affected their participation or performance in the 2020 season.
Said Mabvura, the former La-Sakubva player:  "The Covid-19 break helped me recover from my knee injuries. I have had enough time to heal. I am now fully fit and raring to go. I am going ahead with physical training and a little bit of ball juggling drills."
Former Manica Diamonds' player, Jaure, is also singing from the same hymn book.
"It is clear that the Covid-19 lockdown break was a blessing in disguise for me. I have managed to recover. Even if the game starts tomorrow, I am now ready. I survived a life threatening situation and I never thought finding time to fully recover without missing even a single minute of football action was possible," he said.
But both players are now itching for a return to the field of play and agree that the break has gone beyond their expectations.
"I am now itching to get back on the football pitch. When the break started it was good as l needed time to recover but it is threatening our livelihoods. We rely on those winning bonuses and allowances, something we can't get when we are not playing," said Mabvura, the 2019 Soccer Star of the Year finalist.
Jaure echoed the same sentiments.
"Football is our source of income. If we are not working, it is difficult to feed our families. I cannot wait to get back on the field of play," said the Dynamos skipper.
Jaure rejoined Dynamos from Manica Diamonds at the beginning of this year.