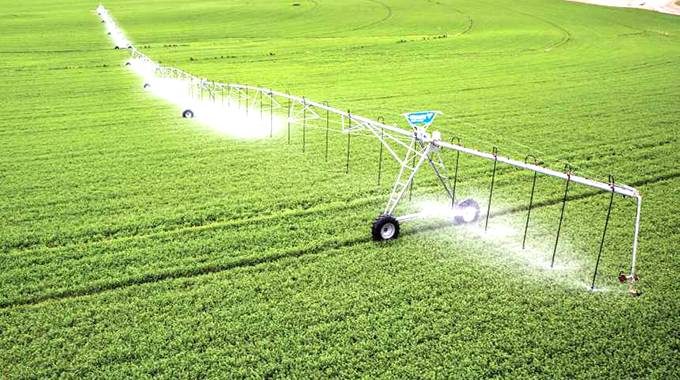 The ManicaPost
Samuel Kadungure Acting News Editor
MAJOR works to expand and modernise Nyakomba Irrigation Scheme in Nyanga, in which US$18 million was injected by Japan, are complete with the Government putting final touches on its contractual obligations that were part of the deal.
Focus is now on levelling the surface on Bloc A, fencing and installation of electricity, which are being done by Government as part of the contractual agreement.
The Department of Irrigation in the Ministry of Lands, Agriculture and Rural Resettlement, with the technical partnership from the Japan International Co-operation Agency (JICA), is involved in the rehabilitation and development of the facility.
Konoike, of Japan and Masimba were the contractors involved in the scheme's comprehensive rehabilitation and modernisation.
Expansion works stretched for two years. Provincial irrigation officer Engineer Tendai Chimunhu confirmed the development, adding that their pace was being hampered by fuel shortages.
"Major works are through, and we are currently working on land levelling in Block A, which is an additional 146 hectares. Blocks B, C and D measure 430 hectares.
Work is progressing well and ideally we would have liked to beat the onset of the rainy season, but our major challenge is fuel.
"Our allocation is meagre. We are allocated 600 litres per week as regulated by the Zimbabwe Energy Regulatory Authority (Zera). We require bulky fuel supplies in the region of 5 000 litres to power the dozers and other equipment non-stop," said Eng Chimunhu.
"Sometimes we are held back by non-availability of fuel, which puts to the fore the need for bulk allocation and storage on site. The new pump station is complete and apart from land levelling work is progressing well on fencing and installation of electricity on Blocks A and B. These were our contractual obligations. Tillage is also in progress in preparation for the forthcoming season," said Eng Chimunhu.
The modernisation of Nyakomba will certainly increase productivity due to the expansion of the hectarage to be put under crop, improvement in water conveyance efficiency, strengthening of technical services and management of the scheme.
Nyakomba is one of the most critical irrigation schemes in the country established with support from Japan between 1997 and 2000.
Productivity at the scheme nose-dived as it suffered chronic lack of maintenance following flood damages in 2006 that resulted in pumps and canal networks failing to deliver sufficient irrigating water.
Crop yields and farmer incomes had thus fallen, exacerbating rural poverty in the dry part of Nyanga North.
Japanese Ambassador to Zimbabwe Mr Yoshi Hiraish is on record as saying the expansion is a milestone development as water pumps and other irrigation infrastructure would be fully rehabilitated.
Mr Tambudzai Manyau said the future looks bright following the fixing of challenges confronting the scheme.
"It's really a positive development and we are optimistic about the future," he said.
The farmers are into maize, beans, peas, tabasco chilli, tomatoes, paprika and wheat production.