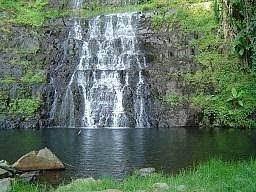 The ManicaPost
Liberty Dube
Tourism Correspondent
A visit to Chimanimani's highest waterfall, Bridal Veil, comes with well-deserved hydrotherapy.
Situated about four kilometres from Chimanimani Tourist Village, the magnificent site is now bigger and more attractive, thanks to Cyclone Idai which repositioned the tourism site.
The eye-catching site is located within the boundaries of Chimanimani National Parks.
Its water cascades over a cliff like a veil covering a bride's face, hence its befitting name.
The setting of the falls is a trove of exotic and indigenous trees which are dotted around the park.
For outdoor lovers, having your picnic a stone's throw away from the majestic falls is a relaxing experience.
A gazebo for shelter in case it rains is in place and doubles up as a resting area.
The environment around Bridal Veil, with its clean fresh air, is indeed therapeutic.
One can walk on a short hiking trail and experience the different splash-pools that eventually lead to the main Bridal Veil waterfall.
Bird watching is one of the most therapeutic activities and one is spoilt for choice at the Bridal Veil.
Beautiful, unique and sometimes scary, yet harmless birds that can be found in Chimanimani include Gurney's sugarbird, Stripe-cheeked greenbul, Cape bunting, Yellow-streaked greenbul, Diedrick cuckoo, Emerald cuckoo, scarce swift, Mountain wagtail, taita falcon, Collared sunbird, Olive sunbird and of course the Singing cisticola, a bird that can provide soothing melodies while hidden in the thickets of trees.
A tree and bird expert told The Manica Post that there are unique trees around Bridal Veil and Chimanimani as a whole.
"We can talk about trees such as Trema orientalis — Pigeonwood, Rauvolfia Caffra — Quinini Tree, Celtis Africana — White Stinkwood, Bridelia Micantha — Velvet Bridelia, Acacia Sieberiana and Macaranga Mellifera," he said.
Veteran hotelier, Mr Willard Madhombiro, said the Bridal Veil falls are a signature attraction in Chimanimani.
"Bridal Veil Falls are a tourism resource under the health and wellness tourism sector, which is a vibrant sector on its own. The sector has a global consumption of US$3,2 trillion. The question is how much are we as a nation getting from that figure?
"There is a huge gap in marketing our tourism resources. This means there is need for a real strategy on how to package all the waterfalls available in the province and the country at large. We have Bridal Veil, Mutarazi, Nyangombe and Victoria Falls under the Health and Wellness cluster. We need to present them to the world as a package. It is critical to have an active information and publicity centre to articulate the benefits of visiting such places.
"To guarantee its sustainability, it is important to involve locals in the management of such centres. We could also adopt models from South Africa where locals collect revenue with the local traditional leaders being the custodians of the sites," said Mr Madhombiro.
He said the set-up would suppress or arrest locals' hostility on tourists and foster conservation among the beneficiaries.
Bridal Veil Falls has become the face of Chimanimani's tourism.
The district is fast recovering from the devastating effects of the March 2019 Cyclone Idai which left a trail of destruction.
Chimanimani Rural District Council deputy chairperson, Councillor Panganai Chirongera said tremendous strides have been made in resuscitating tourism in the district, with Bridal Veil Falls on top of the list.
"Efforts are being made to improve accessibility to tourism sites such as Bridal Veil Falls and Chimanimani Mountains. Accessibility has been one of the major challenges, but we are on the right track.
"Plans are also underway to bring back wild animals as well as indigenous and some exotic birds to Eland Sanctuary.
"The cyclone destroyed the perimeter fence, resulting in some animals escaping, while others were swept away by the floods and mudslides.
"We are fencing the park as part of the rehabilitation programme," said Councillor Chirongera.
Eastern Highlands Experience chairman, Mr William Chatigu said tourists need to enjoy all of Manicaland's tourism products when they visit.
"We need to package the falls with other activities that are offered in Chimanimani, for instance bird watching and mountain hiking. The falls will then become the main highlight," said Mr Chatigu.
Chimanimani Hotel general manager, Mr Mandla Mataure, said they always include a visit at the stupendous scenery as part of the hotel's package for tourists.
"Tourism players can promote the beauty of this majestic waterfall which can be viewed from several vantage points. We also have several other falls across Chimanimani where tourists can enjoy a swim and a picnic, among other activities."