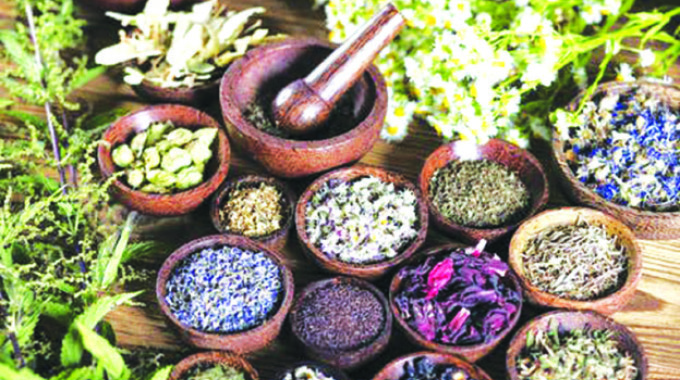 The ManicaPost
Rumbidzayi Zinyuke
Senior Reporter
AS the health sector continues to charge an arm and a leg for medical services, herbal medicines are finding their way onto the Zimbabwean market, thereby creating a cheaper alternative for patients who are struggling to get treatment in hospitals.
Most public hospitals are overstretched as they have to cater for the bulk of the people who cannot afford the high costs being charged by the private sector.
With pharmacies capitalising on the economic situation, many cannot afford to buy medicine as it often pegged in US dollars.
Although its authenticity is questionable, a new arm of the health sector has slowly risen to address the gap created by the public and private health sectors.
Traditional herbal medicine is now found anywhere in the country and is said to heal anything from cancer, arthritis, asthma, diabetes, the common cold and sexually transmitted infections.
According to investigations conducted by The Manica Post over the past two weeks, some of the herbs are being imported from neighbouring countries, while others are locally available.
The medicine is available in different forms, including liquid, powder, capsules and balm.Some of the medicine is being sold at herbal clinics, while others are being distributed by individuals at a cost of between US$3 and US$35, depending on the volume.
At one clinic, all medicines were pegged at US$10 each, but patients were being advised to part with at least US$30 for the three types.
"For a patient suffering from arthritis, we recommend that you get the cancer bush which goes to the root cause of the disease and helps to fight it. You will need five more herbs to make sure we treat the disease," said one of the sales representatives who spoke to The Manica Post.
She said besides the cancer bush, the patient also needs an immune system booster, a detox, pfumo calcium, a vitamin and mubayanyama, which is reportedly a painkiller that also reduces blood pressure for hypertensive patients.
The Manica Post gathered that the same medicine can be prescribed for nother diseases, although the combinations can vary with the ailment.
However, the efficacy of these medicines is not very clear, especially given the fact that one herb can be prescribed for many ailments.
Pythomed Khoisan Herbal Medicines distributor, Ms Diana Makumbinde said the herbs have been tested and approved in Port Elizabeth, South Africa, and their sale in Zimbabwe is above board as they are licenced to sell them locally.
"These are 100 percent natural herbs that were used by the Khoisan people way back. They do not have any after effects. The moment a person starts to take the medicine, it detoxifies their system and searches for the cause of the ailment.
"The herbs are effective. However, the timeframe in which one patient can be healed differs from the next as immune systems differ," she said.Mrs Makumbinde said it is possible for people with different ailments to get the same treatment as herbs work on the entire immune system to attack diseases.
Experts across the world have, however, urged caution when combining traditional and conventional modern medicines, although there has been no scientific proof that the former may have negative effects.
Ms Makumbinde said when taking herbs, people are encouraged to continue taking their prescribed medication.
"We do not encourage people to stop taking whatever prescribed medications they are on. We tell them to continue. When they feel healed, they should visit their doctor to get an expert opinion on whether they should stop using the prescribed medication or not," she said.
Gogo Ndlovu, a patient who is on traditional herbal medicine therapy said she hopes to get relief from the herbs.
"I have been on various medicine for BP, diabetes and arthritis; not to mention the general body pains that come with age. My children urged me to try the herbal medicine, I really hope it works. I am tired of the constant doctors' visits and the expensive medical bills that my children always have to clear," she said.
Most of the herbal medicine found on the market are supposed to be licenced by the Traditional Medical Practitioners Council of Zimbabwe (TMPC), while some are supposed to be licenced by the Medicines Control Authority of Zimbabwe (MCAZ).
TMPC chief licencing officer, Ms Jane Mawuzhengi, said they licence medicines produced locally as well as those that are imported in powder and tea form. Liquids, capsules and other forms of medicines are licenced by the MCAZ.
"When someone wants to sell herbal medicines, they have to apply for a practising licence. They get a licence to certify that they are a registered herbalist. Clinics get herbal clinic licences," said Ms Mawuzhengi.
MCAZ spokesperson, Mr Shingirai Douglas Gwatidzo said they regulate complementary medicines under the Medicines and Allied Substances Control (Complementary Medicines) Regulations, 2015, Statutory Instrument 97 of 2015.
These include any substance or mixture of substances which is used, or is manufactured, sold or represented as suitable for use in the mitigation or prevention of diseases in human beings or animals.
"Only applicants who have authorised products are allowed to place their products on the market. The current register of approved complementary medicines has 218 products," said Mr Gwatidzo.
To ensure compliance, Mr Gwatidzo said their inspectorate department collaborates with the police Drugs and Narcotics Section and other law enforcement agencies in enforcing these regulations.
"From time to time, the authority conducts joint inspections with law enforcement agents to try and ensure that people abide by the law in the sale of complementary medicines. Contravention of statutory provisions for sale of complementary medicines may lead to prosecution resulting in a fine or imprisonment, or both. To date, a number of offenders, mostly network marketers, have been prosecuted and charged for the offense," he said.
Mr Gwatidzo said all medicines are tested before they are allowed onto the market.
"Applicants are required to submit information on the herbs, their purported health benefits and potential side effects. The MCAZ laboratory then tests the drugs to establish their safety," said Mr Gwatidzo.