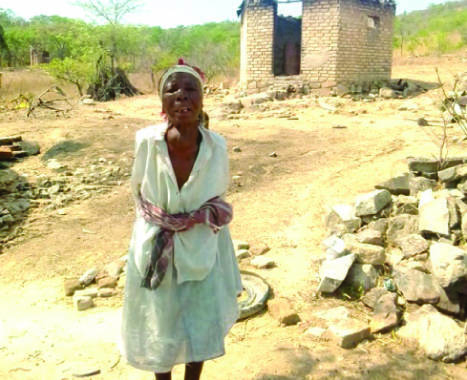 The ManicaPost
Liberty Dube
Weekender Correspondent
NYANGA family is facing a torrid time at the hands of goblins that are feasting on its cooked food before replacing it with soil on a daily basis.
The goblins, The Weekender has learnt, are on the rampage, and are determined to destroy everything the Nyikayaramba family sweated for over the years after a mysterious fire razed two huts, destroying property and foodstuffs.
The goblins allegedly belong to some of the elderly Nyikayaramba family members who are reportedly trying to get rid of them.
They are now tormenting Gogo Nyikayaramba and her three grandchildren.
Acting Chief Saunyama confirmed the case which is happening at the Nyikayaramba homestead in Ward 14 of Kute Village.
He told The Weekender on Tuesday that the Nyikayaramba family should come out clean over the issue.
So disturbing and severe is the case that has resulted in the three juveniles doing Grades six, one and Early Child Education (ECD) dropping out of school and staring starvation in the face.
"I can confirm the mysterious occurrences happening at the Nyikayaramba homestead. The children who are all below the age of 11 are manifesting. They are being tormented by goblins that take away their prepared food, and eat it before replacing it with soil.
"This has been happening for some time now, and has left the family living in abject poverty after two huts were recently reduced to rubbles by a mysterious fire. The fire destroyed household property as well as clothes and foodstuffs. The origins of the fire are yet to be ascertained," he said.
The Weekender has also learnt that the macabre real life drama has affected the children's education as they were forced to drop out of school.
The children often fall into trances, and some of them are now staying at a local prophet's homestead, a development that is compromising their safety.
"It is a serious case. Their food disappears from their plates especially when the three juveniles, and Gogo Nyikayaramba are about to eat. This has severely traumatised the kids and their health is failing. Villagers are also perplexed. The goblins are reportedly being unleashed by Gogo Nyikayaramba's relatives who want to get rid of them.
"Some property was reduced to ashes during the anti-malaria spraying campaign by personnel from the Ministry of Health and Child Care when they tried to remove it to pave way for the residual spraying of the huts. The family is living in abject poverty since fire gutted all their property, food and other stuff.
"This is a disturbing case, and we hope a solution will be found in the immediate future and save the children from this torture. We have informed our traditional leader (Chief Saunyama) and other relevant authorities such as the Department of Social Welfare," said a neighbour who requested anonymity. Acting Chief Saunyama has since summoned the Nyikayaramba family to his traditional court, and are set to appear before him today (Friday).
"They (Nyikayaramba family) have a case to answer. My aides are on their way there to summon them to appear before my court on Friday. It is a disturbing issue especially considering the pain and suffering the three innocent children are being subjected to," added Acting Chief Saunyama.
Zimbabwe National Traditional Healers Association (ZINATHA) president, Mr George Kandiero said Gogo Nyikayaramba should shed more light on what was happening.
"I think Gogo Nyikayaramba might have a hint on the source of these goblins. There is more to it. It is unfortunate that the goblins are now terrorising the innocent ones.
"If Gogo Nyikayaramba has something to do with this issue, she should confess, and get the necessary assistance.
''If she is clean, then the family should contact our offices or well acclaimed traditional healers for assistance. The fact that the goblins need food, and they are stealing, it means they are not getting exactly what they should be getting. There is a serious issue here," he said.