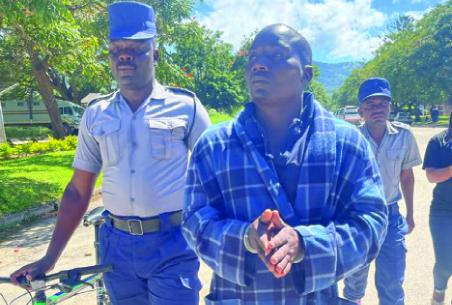 The ManicaPost
Tanyaradzwa Mujati
Weekender Reporter
A MUTARE man was caught in the act as he was using mubobobo (self-gratifying sexual act) at Mutare Girls' High School early this week.
John Zimunya was caught red-handed by alert school girls who had spotted him playing with his manhood while starring at them.
Disturbed by the discovery, the schoolgirls raised alarm with the school caretakers and the scantily dressed Zimunya was nabbed.
Despite being a sunny day, Zimunya was donning a heavy winter morning gown and a T-shirt with no other clothes.
After being alerted by Mutare Girls' High School caretakers, police swiftly pounced on Zimunya and whisked him to Mutare Central Police Station.
Zimunya refused to entertain any questions from The Weekender.
However, information availed to The Weekender showed that Zimunya is not new to the self-gratifying game as several people have spotted him in the act at various locations in Mutare in broad daylight.
Among some of Zimunya's alleged targets are sex workers at Moto-Moto in the Central Business District.
"This is not the first time for him to be caught in the act. At first people thought he will be masturbating, but they came to the conclusion that Zimunya is a ritualist. He is a taxi driver and also a well-known gambler. Maybe, the mubobobo is part of his lucky enhancing charms," said a source who requested anonymity.
One of the caretakers at Mutare Girls' High School, Jealous Mufundisi said Zimunya's car was parked at the school gate where alert learners spotted him as he was busy gratifying himself.
"The girls spotted him in the act and rushed to inform us. We rushed to where he had parked his car and saw him busy with his mubobobo. He was not wearing anything underneath his morning gown, save for a T-shirt. The girls said they saw him playing with his manhood while looking at them," said Mufundisi.
He added: "Last week, we witnessed an almost similar incident. We caught a man in the act at the same gate and at the same position. We questioned him and he said four other people come and perform the same act while starring at the children.
"I strongly believe that these men are ritualists because how can someone drive all the way to a school to perform this shameful act? They are abusing the innocent girls here."
Mutare District Schools Inspector, Mr Edson Mapungwana could not comment on the issue as he was still awaiting clearance from his superior to speak to the media.
Zimunya appeared before Mutare magistrate, Ms Perseverance Makala, on Wednesday.
He was convicted on his own guilty plea for public indecency as defined in Section 77 of the Criminal Law (Codification and Reform) Act.
He was fined US$65.
Ms Joyce Tinarwo prosecuted.