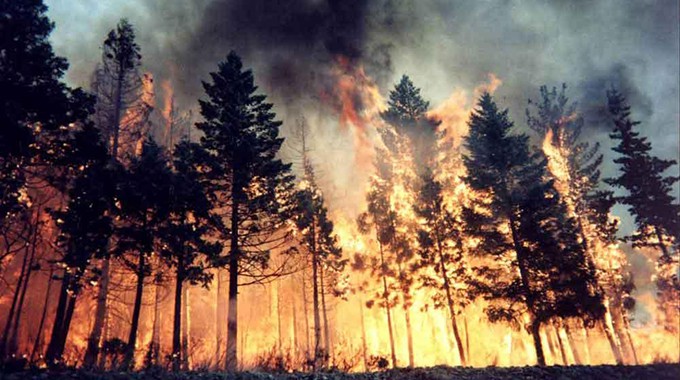 The ManicaPost
Moffat Mungazi
Post Reporter
THICK smoke can be seen billowing from a distance.
Ear-piercing yelling from the elderly villager's adolescent son jolts him into abandoning firewood chopping in a huff as he dashes towards the direction the desperate cries for help are coming from.
The man realises that a veld fire has broken out in the field adjacent to his compound and he frantically tries to put it out. ln the process, he sustains burns of varying degrees all over the body.
Three of his goats that were browsing nearby are encircled and trapped in the flames as emergency evacuation of the animals is rendered impossible.
The flames threaten to spread wildly.
Gasping heavily for breath and almost choking, the elderly man raises alarm.
Other villagers rush to the scene and join in the battle to extinguish the raging inferno using tree branches and sand.
Luckily, the fire is contained before it gets out of hand.
This is not an isolated incident as the scourge of veld fires has become prevalent across the entire country during this fire season.
While some cases have been documented, others have gone unreported.
The fire season in Zimbabwe, according to the Environmental Management Agency (EMA), runs from July 1 to October 31.
Veld fires are a common occurrence during this period because of the dry and windy weather conditions.
During the fire season, no one is allowed to start fires outside their houses because the fuel load – comprising dry leaves, grass, wood and dead plants – is more susceptible to flames as it will be highly combustible.
At this time of the year, the presence of a huge biomass fuels the flames and stokes the fires.
Statutory Instrument 7 of 2007 Environmental Management (Environmental Impact Assessment and Ecosystems Protection) Regulations stipulates that noone must start a fire deliberately during the fire season.
Starting fires in the open during the high fire hazard period is, therefore, prohibited as it comes with serious risks.
Uncontrolled fires consume large tracts of land.
Available evidence points out that veld fires are mainly caused by human activity, accidental or intentional (arson).
These include unsafe and improper disposal of lit cigarettes stubs, land clearing, hunting, smoking out bees, children playing with fire and drivers making fires by the roadside, among other things.
Wildfires that occur naturally are usually caused by lightning, coal-seam or fallen power lines.
Prevention better than cure
Veld fires have adverse effects and negative impact on both the environment and humanity.
This has become such a global menace.
The Paris Agreement under the United Nations Framework Convention on Climate Change highlights that forests play a critical role in mitigating the negative impact of climate change.
Greenhouse gas emissions are significantly reduced through the forests' ecosystem, thereby making the weather less extreme.
Sadly, over the last three decades, Zimbabwe and other countries in the southern Africa region have become warmer and drier, scientists say.
This has made wildfires more frequent and destructive.
EMA has described veld fires as a disaster risk.
"Veld fires have become a big problem and a major cause for concern. We discourage people from starting unplanned and uncontrolled fires. EMA is raising environmental awareness on fire management before, during and after the fire season. We are also capacitating communities in veld fire management through projects such as hay bailing, grass combing and beekeeping," said the agency's spokesperson, Ms Amkela Sidange.
EMA urged communities to exercise extreme caution and put in place effective control measures against veld fires.
All fire cases must be reported to the agency, traditional leaders, police, Forestry Commission and rural district councils, EMA added.
Guarding against veld fires is one sure way of protecting the environment.
This, therefore, becomes a shared concern and a collective responsibility.
Acting Chief Zimunya lamented the veld fire menace in his area.
"We grapple with wild infernos during the fire season every year. These mainly occur between August and September. Besides the danger they pose to human life, our livestock is now forced to travel long distances in search of pastures as those in our community would have been ravaged by fires," said the traditional leader.
He warned communities against unnecessarily starting fires.
Said Acting Chief Zimunya: "Our people are urged to desist from starting uncontrolled fires. As the local traditional leadership, we have set it down that the minimum punishment for anyone found guilty of the offence pays a fine of a cattle or US$300.
"In some cases, we even hand the culprits to the police and EMA as we are collaborating with them for effective measures and action to curb the menace."
His counterpart, Chief Muusha of Chimanimani, said they are facing similar challenges.
"Given that there are plenty of plantations in our area, we have to remain vigilant. Recently a wild fire broke out at the Arda Estate in Ward 16 before it spread to Rosecommon and ravaged a Wattle Company plantation.
"The shrines where our traditional leaders are interred were also burnt by the inferno. We had to carry out some rituals and are set to hold a traditional ceremony over this incident. This year, we have fined at least four people for starting fires," said Chief Muusha.
However, he said they are getting on top of the situation.
"We have since established fire committees responsible for raising awareness on the scourge in our communities. Every village has seven of these working groups comprising men, women and the youths," said Chief Muusha, adding: "Working with ward assemblies, they ensure a collaborative, coordinated and effective approach to tackling veld fires."
Some of the most common preventive ways of reducing the danger of veld fires are putting up standard fireguards which are at least nine metres wide around properties and reducing biomas (fuel load) by hay baling and thatch grass combing.
Keeping the necessary equipment, protective clothing as well as emergency numbers is also handy in case a fire breaks out.
Calls to hold fire management awareness campaigns in the communities therefore continue to grow louder.
Those found on the wrong side of the law in fuelling veld fires should be brought to book and face the music.
Stiffer penalties, through custodial sentences and heavy fines, must be meted out so as to deter would-be offenders.
Counting the losses
The amount of damage caused by wild fires is severe and the losses incurred are huge.
Besides posing grave danger to people, livestock, crops and property have been destroyed in raging infernos.
Reduced soil fertility, destruction of vegetation, land degradation – which leads to deforestation and desertification – air and water pollution as well as destruction of wildlife can also be precipitated by veld fires.
Livestock and crops have also been lost in veld fires.
Uncontrolled fires also destroy animals' natural habitats and upset the balance of the ecosystem.
Productivity is also affected, while biodiversity is lost.
Grazing pastures are not spared either.
ln addition to destroying people's livelihoods, veld fires also threaten food security and nutrition at family, community, provincial and national levels.
Sadly, a total of 18 people have to date been killed by veld fires that have ravaged some parts of the country this season.
Recently, 10 people were burnt to death, some beyond recognition, when they were trapped in a mountainous area while fighting a raging veld fire at a farm in Esigodini, Matabeleland South Province.
EMA warned that if no decisive action is taken immediately, this season may turn out to be the worst as the death toll could surpass the 2010 figures when 25 people died in wild infernos.
Recently, 40 hectares of barley wheat were reduced to ashes after a vicious veld fire swept across Tara Farm in Headlands.
The fire was believed to have started at a settlement that shares a boundary with the farm.
The crop was almost ready for harvesting and it left the farmer, Mr Richard Tabor, counting his losses. Current statistics show that this season alone, veld fires have destroyed 200 hectares of the winter wheat crop worth thousands of dollars across the country.
In a post-Cabinet briefing last Tuesday, Information, Publicity and Broadcasting Services Minister, Senator Monica Mutsvangwa revealed that to date, five wheat fields have been burnt by veld fires.
"To date, five wheat fields of about 200 hectares have been burnt by wild fires. While farmers are encouraged to have the requisite fireguards around their farms, the public is urged to desist from unnecessarily starting fires as they have grave consequences on human life and property," said Minister Mutsvangwa.
In August, an inferno engulfed the Nyakamete Industrial Area in Mutare and destroyed property worth thousands of dollars at Wattle Company.
That day's production went up in smoke.
EMA said on average, one million of land is destroyed by veld fires a year in Zimbabwe.
The agency estimates that property worth US$300 000 is gutted down by fires annually.
"Cumulatively, since the beginning of the fire restriction period, a total of 5 386 incidents burning 1 244 227,34 hectares were recorded. The area burnt increased by 58,6 percent from the 784 725,2 hectares that were burnt during the same period in 2021. A total of 5 386 incidents have so far been recorded as compared to 3 410 incidents recorded in 2021, indicating a 57,9 percent increase," said EMA in a latest report.
The agency said the average burnt area in 2021 during the same period was 230,12 hectares per incident, while in 2022, the average area burnt is 231,01 hectares.
Farmers continue to bear the brunt of the scourge as the country loses approximately a million hectares of forest and grassland to veld fires each year.
Against this background, agricultural experts continue calling on both commercial and small-holder farmers to get insurance cover for crops against such disasters in order to cushion themselves from losses.
Last month, EMA announced that Zimbabwe is in the medium-to-high-risk category of veld fires.
The warning period for a high-risk fire season has subsequently been extended owing to climate change.
Although Manicaland, together with Masvingo, has the least areas burnt for rural provinces, there is need for more preventive action.
For Manicaland, the veld fires are destroying the province's breathtaking scenic environs.
Sadly, this has left some parts of the exquisite escarpments adorning the province badly bruised, defaced and scarred.
Also, as home to vast timber plantations, mainly in Nyanga and Chimanimani, the danger of lurking veld fires cannot be overemphasised.
Consequently, this stifles the timber industry and its contribution to the provincial and national GDP.
When the wildlife is gutted by fires, the tourism industry also feels the pinch as this swindles the potential revenue.
The worst fires in Zimbabwe were recorded in 2012 when US$479 723 worth of property was lost.
Wild infernos negatively affect the strategic sectors of the economy such as agriculture, tourism, forestry and wildlife as well as infrastructure.
With our forests bleeding and choking from veld fires, this militates against the country's aspirations to attain an empowered and prosperous upper-middle income society as enunciated by Vision 2030.