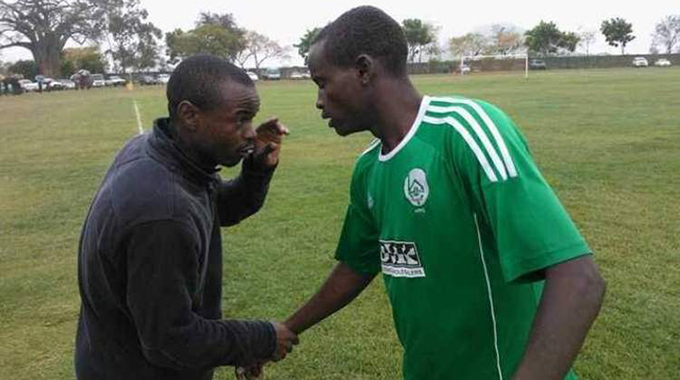 The ManicaPost
Ray Bande
Senior Reporter
CAPS United assistant coach, Taku Shariwa, believes there is more to football clubs' success than money.
He also believes the dominance of FC Platinum in domestic Premiership is now coming to an end.
The former Mutare City Rovers and Greenfuel gaffer, who joined the Green Machine mid-season last year, endured a painful end of the 2019 season when the Premiership title was snatched from their jaws on the final hurdle.
CAPS United had dominated the league season, spending the greater part on the apex of the log table, only to surrender their lead to high riding FC Platinum on the last day of the season.
This excruciating experience came after three consecutive years of FC Platinum's dominance, with the Zvishavane side rewriting the history books of domestic football by keeping the Premiership title outside the country's major cities of Harare and Bulawayo not once, nor twice, but thrice.
CAPS last walked to the PSL winners' podium in 2016 under Lloyd Chitembwe. That victory came after a lengthy wait since 2005 when they had last won the league title.
Shariwa believes his club is now in right shape to make amends for that mishap.
"It was really painful to watch FC Platinum winning the title after a marathon season in which we dominated and led the league table for the greater part. It is something that we never saw coming. We thought it was our year of redemption, but we were in for a rude awakening on the final day of the season.
"That happens in football. However, we hope to make amends and make sure that we take this club back to its days of glory. We want to go for the title when action resumes, no doubt about that," he said.
Shariwa said his team has assembled a formidable outfit that can easily be adjudged champions in waiting.
"People should realise that there is more to the success of a club than just money. They (FC Platinum) might be better financed than most teams but money does not determine football success. Money can buy you good players but player management and tactical astuteness can be a variance and determinant
"I strongly believe we have what they lack. We have a positive attitude and are hungry for success, which is nowhere in their corridors. We have a history, we have a reputation built over years of success. That always motivates us.
"Money does not buy success. Players can go an extra mile without money. I experienced that at Shabanie Mine. We never had money, but we never faced relegation. Wearing the CAPS United jersey is enough motivation for any player to give extra effort," said Shariwa.
But while Shariwa sees the importance of various factors in a club's success, his players at CAPS United have been making news headlines over an industrial action and clashes with the club's management over unpaid salaries.
"Yes, we have had some setbacks here and there but the truth of the matter is that it has not been all doom and gloom. We have had our enjoyable moments.
"Life at CAPS United has been pretty amazing. It has been wonderful for me. Working with talented people such as coach Darlington Dodo has been worthwhile."
On the possible resumption of the league season, Shariwa said: "That topic is on everyone's lips. We are itching to go back onto the field of play and carry out our duties. Remember we have international matches around the corner and countries like South Africa, Zambia and Tanzania are already playing.
"It is a tricky situation that we have to approach with a sober mind. We need to plan with the World Health Organisation's guidelines in mind. At the end of the day, we will follow what the authorities say."
The well-travelled mentor, who was once attached to Shabanie Mine and Hippo Valley in Chiredzi, said the next season will be for CAPS United to lose.
"At CAPS United, we are convinced that we will be the clear front runners during the oncoming season.
"We have quality, age and intrinsic motivation to succeed.
"Money will come at the end of the game, it is not a genesis of success. We sow and reap, not conversely," said Shariwa.