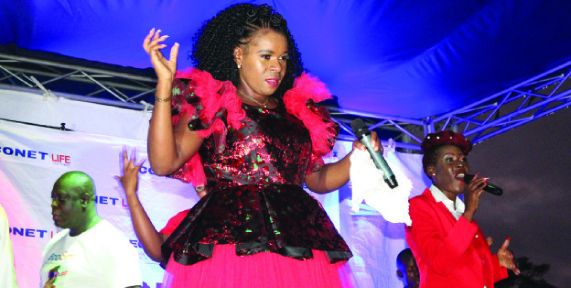 The ManicaPost
Liberty Dube
Entertainment Correspondent
CHANCELLOR Junior School in Mutare was the place to be last week on Saturday for gospel music lovers as one of the genre's maestros, Dorcas Moyo, was launching her ninth album, 'Mhanza Haisekwe'.
There was a carnival atmosphere as the country's gospel heavyweights and hundreds of people graced the event.
It was a historic crowd for a gospel album launch.
The chilly and drizzly weather did not deter brave fans from merrymaking as they started trickling in from as early as 11am as Dorcas and her band did their sound check.
The spacious venue which had a VIP cubicle enabled revellers from across all ages to mix and mingle.
The event was a huge success as most artistes who were billed to perform put up top-drawer performances.
Locals had a refreshing date with some of their favourite artistes who included not just Dorcas Moyo but also Minister Michael Mahendere, Terrence Dzatsata, Hosiah Chipanga, Caroline Chidzikwe, Blessing Shumba, Vabati VaJehovah, Admire Nago and Joyful Praise.
The epic event also included the surprise stage appearance of award-winning South-African-based gospel musician, producer and instrumentalist, Takesure 'Zamar' Ncube, who was greeted with a thunderous applause.
He congratulated Moyo for a successful launch.
Fans also fell in love with another gospel musician, Greatman, who was not billed to perform but attended the event.
Scores of people jostled to have Kodak moments with the artiste before he posted on his Facebook page: "Nezuro ndakazoita gate-crusher ku album launch yaDorcas Moyo . . . Mutare ine vanhu vanoda vaimbi vayo, congratulations my sister (Yesterday, I gate-crashed Dorcas Moyo's album launch ceremony, people in Mutare love and support their artistes)," he wrote, before stating that the track 'Mhanza Haisekwe' which features Alick Macheso was his favourite on the new album.
Dorcas, who performed last at around 6pm did not disappoint.
She dropped some of the songs from the new album, including the anxiously-awaited 'Mhanza Haisekwe' as well as all time crowd favourite, 'Haakotsire'.
Scores of bidders bought the album with different amounts ranging from US$10 to US$1 000, with the highest bidder taking the album for a whooping US$2 000.
In an interview after the launch, Dorcas said she was left speechless by the overwhelming response she received.
"The show was a huge success and we were overwhelmed by the immense support we got from the people of Mutare and beyond. Hundreds braved the wet weather and that speaks volumes about the trust and sincerity of our followers. However, we expected more and the weather somehow affected the numbers. Every artiste brought their A game and that worked perfectly in giving the revellers an unforgettable encounter.
"The people of Mutare are an unbelievable bunch. I will remain forever indebted to their loyalty and support.
"Let us come together and prove that Mutare is a force to reckon with in as far as the arts sector is concerned.
"Thank you Mutare people for the love," she said.
The producer of the album, Olin Anderson of Kunashe Studios, stationed in Chikanga said: "I am over the moon. Working with our elder, Macheso, was one of the greatest moments of my life. The album is already trending and I am happy that I am part of the success story. Having him (Macheso) in the studio was a blessing."