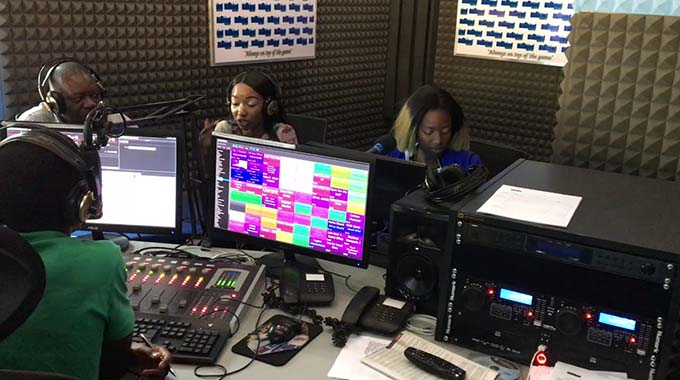 The ManicaPost
Tafadzwa Tichawangana
ZIMPAPERS' Mutare metro radio station, Diamond FM, has been hailed for its role in giving the people of Manicaland information that has helped communities change their behaviour during the current global Covid-19 pandemic.
In a congratulatory message on the occasion of the station's 4th Anniversary on Wednesday, Permanent Secretary in the Ministry of Information, Publicity and Broadcasting Services, Mr Nick Mangwana applauded the station for leading the way in terms of information dissemination on the coronavirus pandemic as well as Cyclone Idai, which ravaged parts of Manicaland last year.
"Congratulations to Diamond FM on its 4th Anniversary which is quite a milestone. The station has played an important role in covering national disasters in recent times, especially if you look back at its role in Cyclone Idai where it ensured the rest of the nation was constantly informed. It continues to have a big impact on the people of Manicaland as it has actively engaged the community during the Covid-19 pandemic by giving them access to information that has allowed them to modify their behaviour," he said.
Diamond FM is a part of the Zimpapers Group, under the Radio Broadcast Division, which includes the flagship national radio station Star FM, Harare-based Capitalk 100.4FM as well as Nyaminyami FM in Kariba.
Zimpapers Group Public Relations manager, Ms Beatrice Tonhodzai expressed appreciation to listeners, advertisers and partners for supporting the station.
"As Zimpapers, we are very excited on this occasion of Diamond FM's 4th anniversary. The station is part of the larger Zimpapers family housed in our Radio Broadcast Division. On behalf of the Zimpapers Group, I want to appreciate all the listeners, advertisers and all stakeholders who have made Diamond FM the great story it is. We will continue to roll out more exciting programmes in terms of programming and live broadcasts," she said.
Diamond FM celebrated its 4th anniversary this week without the usual pomp and fanfare that has characterised previous anniversaries, itself a reflection of the times we find ourselves in as the world rallies together to fight the Covid-19 pandemic.
Diamond FM station manager, Mr Jabulani Mangezi thanked listeners for their support while also expressing regret over the lack of anniversary festivities that incorporated listeners this year.
"As a station, we are humbled by the incredible support given to Diamond FM by listeners, both local and in the Diaspora, as well as all our stakeholders and advertisers, which has seen the station grow from strength to strength each year. We regret that this year, due to the unusual circumstances brought about by Covid-19, we can't hold the traditional fun-filled celebrations our listeners have come to love. We have managed to continue giving our listeners reliable information on the pandemic as well as other matters while ensuring the safety of our staff by teaming up with other stations in the Zimpapers Radio Broadcast Division on multicasts," he said.
At its inception, Diamond FM's broadcast signal was limited to just a 40km radius from its studios, which are housed at the iconic Manica Post Building in Mutare, but as it celebrates its 4th anniversary, the station has enjoyed a growth spurt over the last year.
Its broadcast signal has been expanded to reach most parts of Manicaland, including Chimanimani and Chipinge districts on frequency 107.5. The station has also expanded its reach on its primary frequency 103.8 to cover Buhera district as well as parts of Nyanga, Mutasa, and Makoni districts.
Diamond FM continues to work on expanding its reach to more parts of the province.
"We are looking forward to broadcasting fully into Mutasa and Nyanga districts once the infrastructure at the transmitter sites in the two districts is installed. In the meantime, we wish our listeners, advertisers and other stakeholders safety during these difficult times and we thank them most heartily for their support," Mr Mangezi said.
All this is testament to the growth of a radio station that started out with just 14 staffers at its official launch on May 16, 2015, but has gone on to double its staff complement to more than 30 people who trace their roots to Manicaland.
This has allowed Diamond FM to resonate well with the people of Manicaland in a unique way as the staff communicates with the audience using the various dialects prevalent in the province, for example Manyika and Ndau.
Following the station's expansion into Chimanimani and Chipinge, Diamond FM incorporated several Ndau news bulletins as part of its current affairs programming, in addition to the existing programmes which have always carried programmes in Ndau, among many other dialects of Manicaland.
A listener, Mr Tendai Nyatate congratulated the station and said, "We are grateful to Zimpapers for bringing a radio station to Manicaland and we appreciate the platform we have been given to listen to our languages which were previously marginalised on other radio stations. It is our radio station and we are proud of how it has grown in leaps and bounds over the years. Happy 4th Anniversary Diamond FM," he said.
Over the years, the station has stayed true to its Manicaland identity and ethos.
Continuity presenter, Leonard Tsikira popularly known as Lampy aka Zkit, expressed gratitude to the station for giving him a platform to live his dream of being a broadcaster.
"A toast to the place I call home, a place where I started living my dream. Cheers for today, tomorrow and beyond my time. Diamond FM is a true blessing to the people of Manicaland. I owe what I am today to this place and now I am headed towards greatness," he said.
Fellow presenter, Prudence Gwitirwa, known on radio as the Shumbalicious, Queen of the Shumba Clan, also weighed in and said, "Diamond FM gave me a platform to shine, face my fears, lift others up, rebuke my peers in love and most of all get in touch with who I really am, a Samanyika. As we celebrate four years in the industry, I want to take this opportunity to thank everyone who has supported us. Support does not come cheap, you work tirelessly to prove that you are worth it. It is not easy to speak to multitudes.
Sometimes you offend listeners without intending to, sometimes our personal lives are a mess, but at the end of the day you know you have to deliver. I am not even close to being polished, but my wish is that someday it will happen.
Thank you Diamond FM, Zimpapers, for picking this rough diamond. Cheers to us."