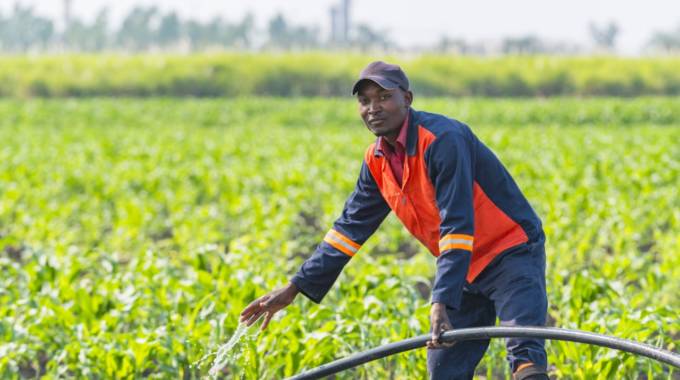 The ManicaPost
Ray Bande
Senior Reporter
VAST tracts of sun baked soils of Chisumbanje in the Lowveld area of Chipinge South have been turned into a greenbelt, with 1 290 households benefiting from one of the country's biggest communal irrigation schemes.
The 0.5 hectare of land for each household translates into 645ha of a communal irrigation scheme.
Due to the dry weather conditions typical of Natural Region Five, the Chisumbanje area and the greater Lowveld has been popular for producing cotton.
However, decades of white gold production did not translate into the current development trajectory.
Not even the proliferation of cotton buying companies could translate into the current development course.
Instead, rural households were perennially kept on a leash in a vicious cycle of poverty perpetuated by cotton inputs debts owed to the various companies.
But today, folks in Chisumbanje are now able to produce various crops throughout the year as GreenFuel has established a thriving communal irrigation scheme for them.
Indeed, Chisumbanje and surrounding areas have been turned into a hive of activity.
No wonder, the local authority is now gunning for urban status.
GreenFuel public relations manager, Ms Merit Rumema said they are empowering villagers around the area by providing irrigation facilities and agricultural inputs.
"As GreenFuel, we are proud to have established one of the country's biggest communal irrigation schemes where 1 290 rural households are producing various crops due to the reliable supply of water throughout the year," she said.
"Part of GreenFuel's commitment to the community is the development of small-scale plots under irrigation. These plots are half a hectare each.
"The company provides technical and extension services to the farmers, pays their water bills and provides tillage services depending on availability of equipment.
"Farmers are able to grow three different types of crops per year. They grow crops such as sugar beans, maize, tomatoes, onions and cotton. The country's 2020 Cotton Farmer of the Year is a beneficiary of this scheme," said Ms Rumema.
She added: "Currently, there are 1 207 farmers under flood irrigation and 83 under drip irrigation. Farmers use money from the cash crops to construct better houses, pay school fees for their children and generally improve their lives. They also grow their own fruits and vegetables in the irrigation plots.
"We have 681.8 ha of land under out-grower schemes for locals. They grow sugarcane which is bought by the company and through this scheme, they are able to lead decent lives," she said.