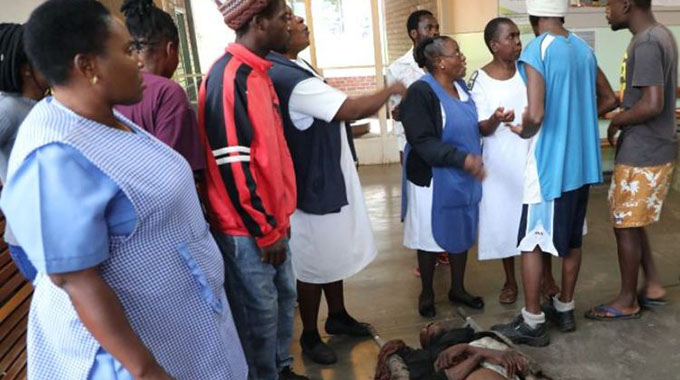 The ManicaPost
Tendai Gukutikwa Post Correspondent
CHAOS broke out at Sakubva District Hospital on Tuesday afternoon after a mob that had brought a  seriously injured man was denied access without a police report.
The angry mob bayed for the hospital staff's blood as they felt that the patient's deteriorating health was more important than protocol.
The victim had allegedly been assaulted and robbed before he was dumped in a water tank by unknown assailants.
Good Samaritans brought him to hospital but their help was in vain as the nurses on duty requested for a police report first before attending to the patient.
There was a heated exchange of words between the mob and the nurses who kept citing protocol.
In an interview with The Manica Post, one of the Good Samaritans who carried the victim to hospital, Shawn Muchenga, said the hospital staff was acting inhumanely by asking for a police report instead of attending to a dying man.
Scores of Sakubva residents quickly gathered at the hospital's entrance demanding that the patient get assistance.
However, the nurses were adamant and they told the mob that they had to first take the unconscious man to a police station and bring a police report.
"We cannot treat or admit him here because you have no police report.
"Go to a police station and make a report then you can come back with him," one of the senior nurses told the mob.
But one resident who only identified himself as Simba shouted back: "You  cannot let him die at your doorstep simply because you are following protocol?"
The hospital later released its ambulance and ferried the patient to Mutare Provincial Hospital, which has a police base.