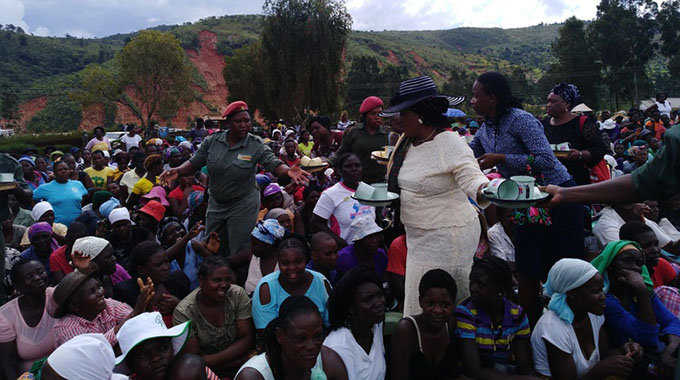 The ManicaPost
Rumbidzayi Zinyuke and NyoreMadzianike Post Reporters
The First Lady Amai Auxillia Mnangagwa has raised concern over a high number of young mothers she met during her two visits to Chimanimani and Chipinge in the past week.
The first lady visited Chipinge hospital on Saturday and Ngangu Township on Tuesday and on both occasions, she raised alarm on the issue, which she said needed urgent intervention.
Speaking at Ngangu, Amai Mnangagwa said she would visit the province again soon for a discussion with the women to find out why young girls were getting married early and having children.
"I am not happy with what I am seeing here ladies. I see a lot of young mothers, why is that so? Let us help each other, I do not want to see such a scenario where young girls have babies, it is not proper," she said. "The children are saying they are being forced, is that true? After we are done with this mission, I will come back here so that we sit down and talk about this because rape is a serious crime. Men cannot rape young children and go on with life as if everything is normal."
On Saturday, the First Lady challenged her African counterparts to join in the fight to end child marriages in Southern Africa.
Amai Mnangagwa raised the concern after meeting a number of girls who had given birth and others who were waiting to deliver at Chipinge District hospital.
"When I got into the hospital I was not happy to see children who wanted to be assisted to give birth," she said.
"Chipinge, some of these children need help from the adults yet they also want to help their own children at the same time. To you fathers, please, that lust for children should come to an end. Marrying off children or having an affair with under-aged children should come to an end."
She said she had realised that Mozambique was also faced with the same problem as there were some Mozambican expecting women in the hospital.
"It means that the Mozambican Government and its First Lady are faced with the same problem of children being married off at young age," she said.
The First Lady took time to tour Ngangu and visit the cemetery where Cyclone Idai victims were buried, after which she handed over relief items she had brought that included kitchen utensils, blankets, clothes and foodstuffs. She also thanked Zimbabweans for the unity they had shown during the disaster and expressed hope that everyone will continue to work together towards rebuilding homes, schools and hospitals that were damaged.
Minister of State for Manicaland Affairs Dr Ellen Gwaradzimba commended the visit by the first lady, which she said had showed the people of Chimanimani that they were not alone in their time of need.
She said government would move with speed to ensure that victims were removed from the classrooms they were staying in to a better environment conducive for families.
"I felt compelled to come and see how those who are staying in classrooms are surviving. That is not an ideal situation, we cannot have families staying in a corner of a classroom with a few belongings.
"As government we will look into the speedy relocation of people who are staying in camps so that people can go back to their normal lives," she said.