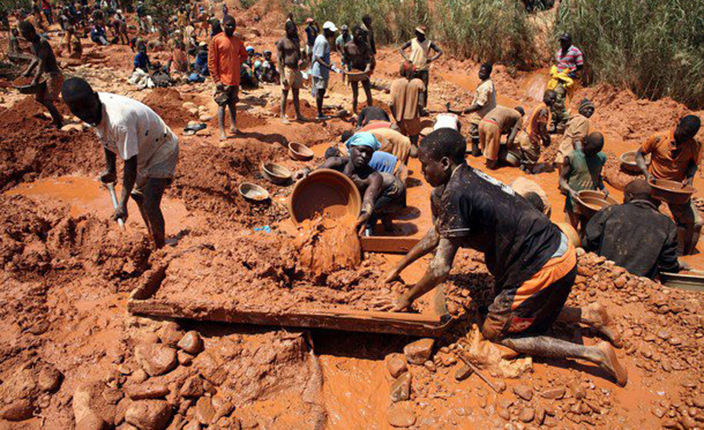 The ManicaPost
Cletus Mushanawani
News Editor
A JOINT operation by the police, Environmental Management Agency (EMA), Mines and Mining Development Ministry and Mutasa Rural District Council this week swooped on illegal gold hammer mills and cyanidation plants in Penhalonga, resulting in several operators being issued with tickets.
Penhalonga area is now a haven of illegal gold mining, resulting in the leakage of the precious mineral, pollution of water bodies and massive land degradation.
Gullies and open shafts now cover the length and breadth of the area, with some of the mining activities reportedly encroaching into schools and residential areas.
It was business as usual when The Manica Post visited the area on Tuesday, with some hammer mills operators processing gold ore despite the raids that were taking place.
Some of them temporarily abandoned their operations as the raiding teams approached them and could not disclose the names of the owners of the mills, claiming that they were just employees. Some simply disappeared into the surrounding thickets.
Investigations by The Manica Post revealed that 129 hammer mills and six cyanidation sites were illegally processing gold at six different locations in violation of Statutory Instrument 258 of 2018 (Environmental Management Control of Alluvial Mining) regulations.
This instrument prohibits the construction of processing plants, washing plants, ore stockpiles, slime dams or settling ponds within 500 metres from the river bank or the highest flood line of any water course.
The law also prohibits the lining of slime dams and settling plants without an approved Environment Impact Assessment certificate.
In Toronto, a farming area opposite Hillcrest College, six hammer mills were illegally processing gold ore along a stream that flows into Mutare River.
The same is also happening in Imbeza where four cyanidation sites were operating, with one cyanidation site under construction. Mud from the processing plant was flowing into Imbeza River, thereby polluting it and affecting aquatic life.
EMA Manicaland provincial manager, Mr Kingstone Chitotombe, confirmed the raid and said their officers were part of the joint operation.
"Several arrests have been made although I do not have the official figures off hand. This is a joint operation involving the police, Mines and Mining Development Ministry, Mutasa Rural District Council and EMA. We are pushing for the decommissioning of these mills because they are causing a lot of pollution in Mutare River and its tributaries.
"The illegal mining operations in Penhalonga are a serious cause for concern and need concerted efforts from all stakeholders to ensure that normalcy prevails. This is not a once off exercise," said Mr Chitotombe.
Acting Manicaland provincial police spokesperson, Assistant Inspector Wiseman Chinyoka, was not available for a comment as he was said to be attending meetings.
Centre for Research Development director, Mr James Mupfumi, whose organisation is among those who raised a red flag over the free-for-all situation obtaining in Penhalonga, said they had observed that some of the illegal millers were processing gold ore using mercury, cyanide and other toxic chemicals.
"We have observed that the milling sites are unprotected, exposing people and livestock to toxic chemicals. Toxic waste from makeshifts ponds is flowing into streams. More so, contaminated soil around the milling plants is also transmitting toxins to the environment through soil erosion.
"We came to the conclusion that these illegal mining activities are contaminating the environment through water and air pollution, thereby exposing thousands of Tsvingwe residents and downstream communities to deadly toxins. Penhalonga is surrounded by farming communities and accumulation of toxic metals in livestock is a threat to food security and public health," said Mr Mupfumi.
He called for the reforms of the gold sector.
"Government has an obligation to reform the gold sector by tabling the Mines and Minerals Bill, and accompanying bills like the Gold Trade Amendment Bill and Precious Stones Amendment Bill to foreclose revenue leakages.
"Government must effectively work with citizens and civil society to clampdown on illegal mining activities prejudicing the right of citizens to derive sustainable benefits in the gold mining sector through environmental pollution, tax evasion, money laundering and gold smuggling," said Mr Mupfumi.
Mutasa Rural District Council Ward 22 councillor, Councillor Cleopas Samanga, called for the clamping down of all corrupt activities in the area.
"Gold mining is part of Government's efforts to empower the youths and we encourage them to have the proper documentation that supports their work. On allegations of corruption being levelled against law enforcement agents, all those found on the wrong side of the law should be brought to book.
"To avoid leakages and smuggling of gold, we encourage Fidelity Printers to come on the ground and buy the precious minerals. We all have a role to play to ensure that our economy recovers," he said.