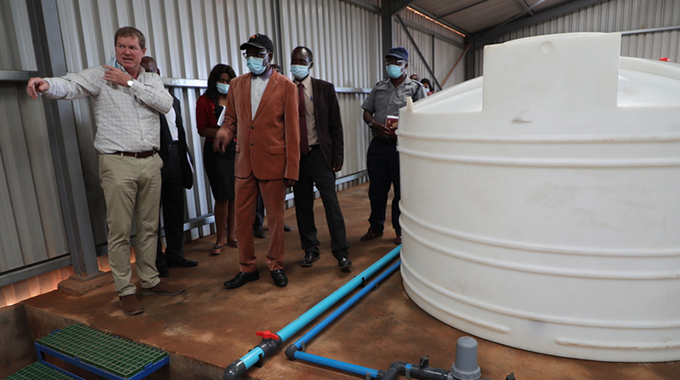 The ManicaPost
Ray Bande Senior Reporter
A 30-YEAR avocado and macadamia production deal between the Government and a private investor, Cicada Group valued at US$25 million is now changing the face of the once derelict Katiyo Estates in Honde Valley, Mutasa District.
The once productive and green Katiyo Estates lying on the undulating terrain along the country's border with Mozambique had been rundown over the years, but the New Dispensation in partnership with Cicada Group is now turning the 770 hectares into a hub of avocados and macadamia production.
US$10 million has so far been used in the investment deal with 220ha already under the macadamia plants, while 130ha is under avocados.
As the project expands, the avocados plantation is expected to cover 340ha.
Speaking during a tour of the project on Wednesday, Minister of State for Presidential Affairs, Monitoring and Implementation of Government Programmes, Dr Jorum Gumbo expressed gratitude with the progress that has been made so far at Katiyo Estates where more than 250 jobs have since been created with the potential to double the figure.
He said the project augurs well with Vision 2030 of creating a middle class economy.
"I am really happy to note the progress that has been going on here. We now have 250 people employed at this estate and I think this is a good partnership made possible by Government through ARDA. This is in tandem with Vision 2030.
"The project has the potential to earn foreign currency for the country since it is primarily for export.
"We marvel at such progress as it will change livelihoods for the better," said Minister Gumbo.
He pledged to address challenges that are being faced in the implementation of the project that include thieving spurred by boundary disputes as well as access to foreign currency through the auctioning system.
In a separate interview, Cicada Group development officer, Mr Nicholas Deswardt, confirmed that US$10 million has already been poured into the project.
"It was not easy getting to this stage. This is a long term project, a 30-year deal between the Government of Zimbabwe through ARDA and Cicada Group.
Of the US$25 million earmarked for this initiative, US$10 million has already been used in setting up what we are seeing here.
"When we came here there was 770 hectares overgrown tea that did not make any business value.
"Today, we have 220 hectares under macadamia plants and 130 under avocados. The goal is to have 340 under avocados," said Mr Deswardt.
In the past, Katiyo Estates was known for high quality tea production, but in recent years before the advent of the New Dispensation, the place was rundown with most equipment laying idle, while some were reportedly auctioned at far below cost price. Hundreds of workers lost their jobs.
At its height Katiyo Tea which had become a brand built a state-of-the-art factory just outside Hauna Business Centre creating employment for many villagers.